EXCLUSIVE Masters Club Renewed Silver Dollar Series: Coin #7 – Pure Silver 140th Anniversary of the Trans-Canada Railway 2 oz. Gold-Plated Coin
EXCLUSIVE Masters Club Renewed Silver Dollar Series: Coin #7 – Pure Silver 140th Anniversary of the Trans-Canada Railway 2 oz. Gold-Plated Coin
9 views in the last 24 hours!
Masters Club:
2,200
Status:

CAN & US shipping only
A Masters Club exclusive! Revisit the 1981 proof dollar with this selectively gold-plated coin.
Coin #7 in our annual Renewed Silver Dollar series looks back at the silver dollar issued in 1981. Re-created in 2 ounces of 99.99% pure silver and enhanced with selective gold plating, the historic design marked the 100th anniversary (1881-1981) of the start of construction of the Trans-Canada Railway.
Canada's first transcontinental railway took four years to build, and once completed, it physically united Canadians from east to west and played a big role in this nation's history.
Here it is: the next addition to your history-, train- or proofdollar-themed collection.
Masters Club exclusive. Coin #7 in a series that celebrates historic proof dollar designs. This coin is a Masters Club exclusive – it is reserved for our most dedicated collectors.
Very limited mintage. This limited-edition collectible has an exceptionally low mintage of just 2,500 coins available to collectors worldwide.
A top-selling series. Every coin in the Renewed Silver Dollar series has sold out:

Coin #1: 2015 – Voyageur (1935)
Coin #2: 2016 – Library of Parliament (1976)
Coin #3: 2017 – Royal Visit/Parliament Building (1939)
Coin #4: 2018 – The National War Memorial (1994)
Coin #5: 2019 – Peacekeeping (1995)
Coin #6: 2020 – Arctic Territories Centennial (1980)
Coin #7: 2021 – Trans-Canada Railway Centennial (1981)

Includes serialized certificate. The Royal Canadian Mint certifies all of its collector coins.
No GST/HST
Packaging
Your coin is encapsulated and presented in a premium Royal Canadian Mint-branded wooden case and a beautiful Masters Club beauty box.

99.99% pure gold plating
Selective gold plating highlights key designs elements – the locomotive on the reverse, the effigy on the obverse – and the rim on both sides.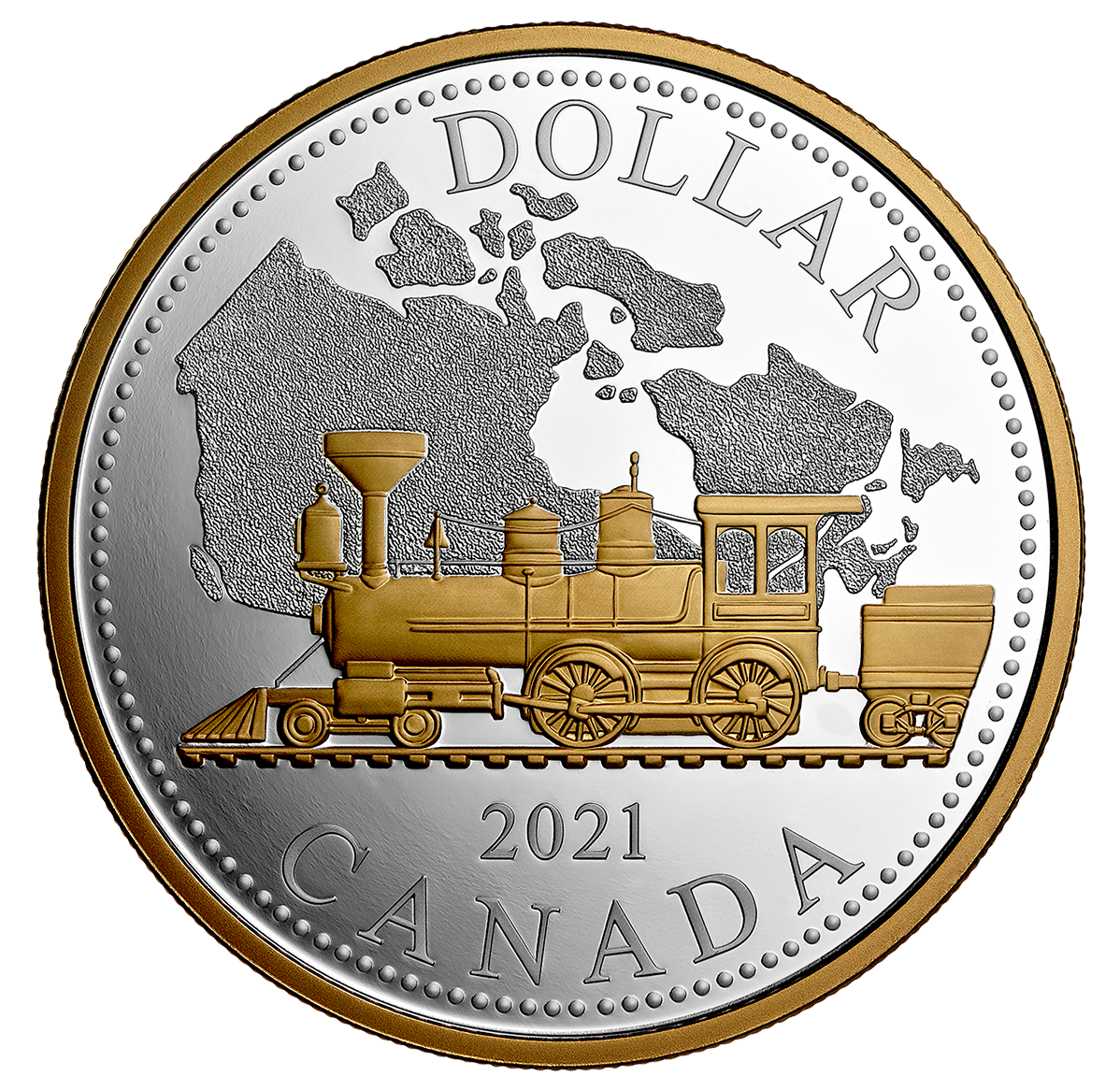 Higher purity level
This 2 oz. coin is crafted from 99.99% pure silver – that's more silver and a higher purity level than the original coin issued in 1981.
Composition
99.99% pure silver with selective gold plating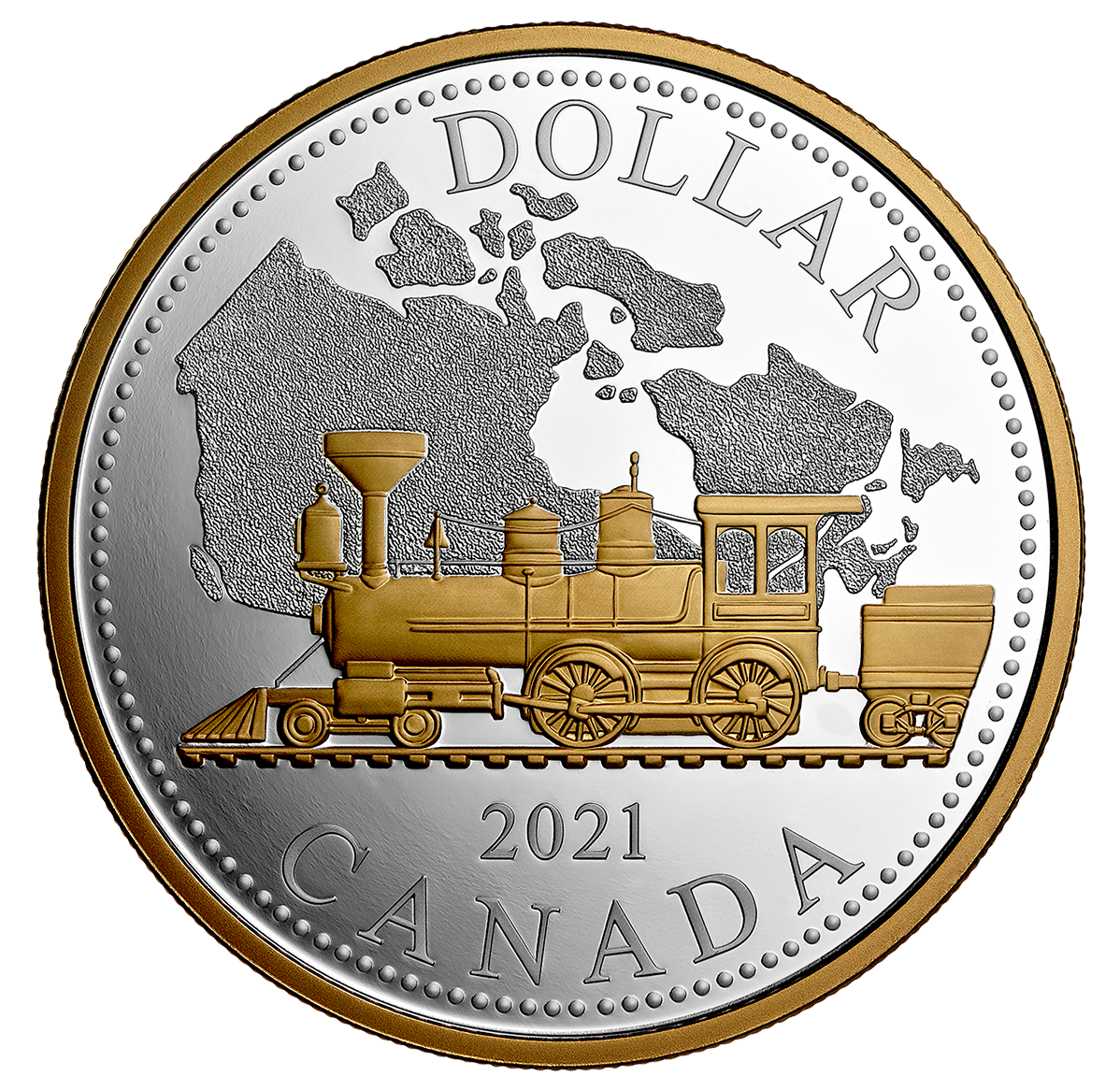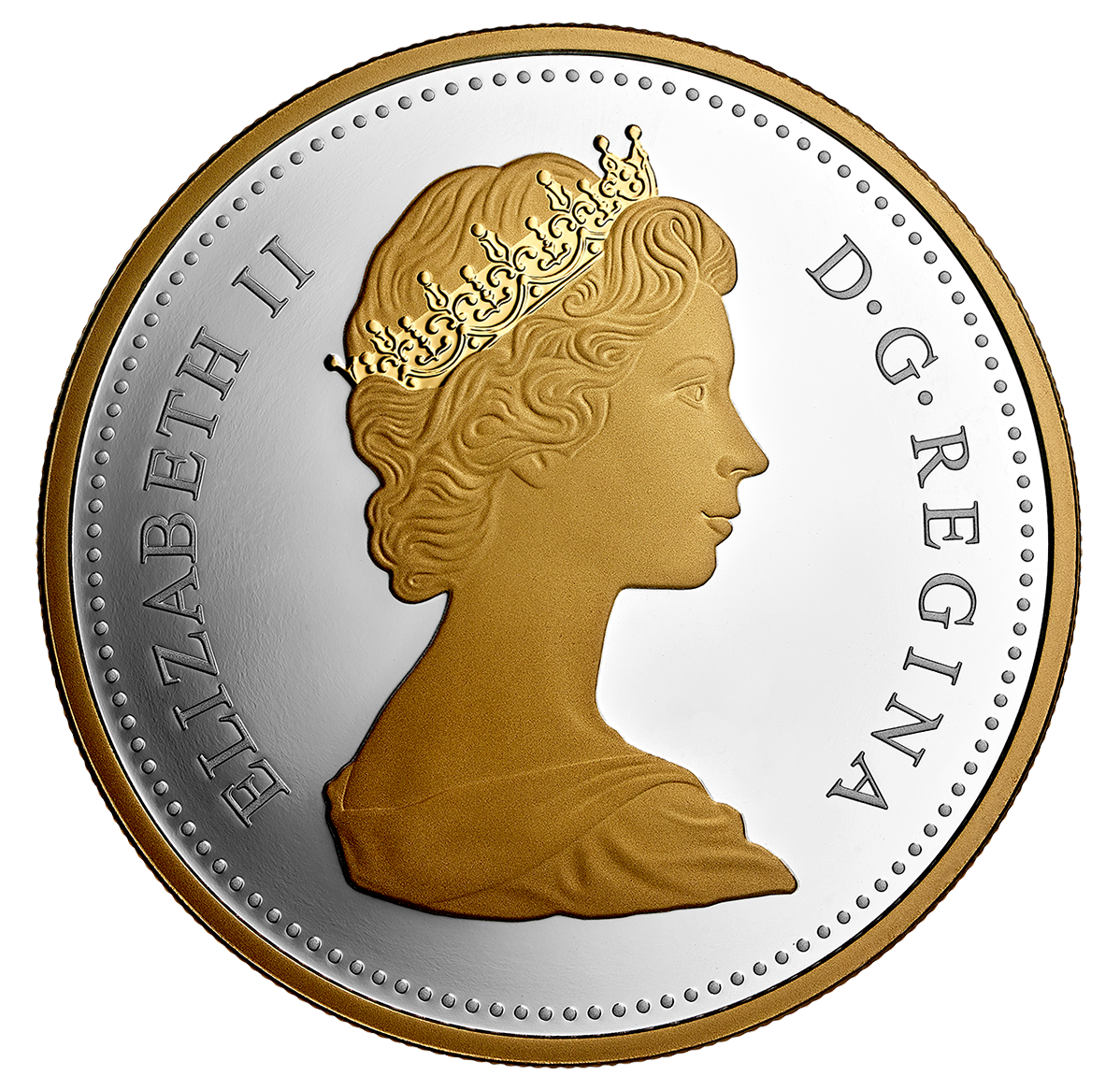 Masters Club members, your coin is a selectively gold-plated reproduction of the 1981 silver dollar that commemorates the 100th anniversary of the Trans-Canada Railway. Designed by Canadian artist Christopher Gorey, the reverse features a map of Canada behind a side view of a 19th century locomotive. The obverse features the historic effigy of Her Majesty Queen Elizabeth II by Arnold Machin.
What do you want to know about this product?