Pure Silver Diamond-Shaped Coin – Forevermark Black Label Oval Diamond
Pure Silver Diamond-Shaped Coin – Forevermark Black Label Oval Diamond
$1,699.95 CAD
Pay up to 6 monthlyinstallments of $283.33 CAD.
Masters Club:
17,000
Status:

CAN & US shipping only
Shipping:

Expected to be shipped on Dec 15
For that elegant, elongated look: A Forevermark Black Label OVAL diamond inspired (and enhances) this 99.99% pure silver coin.
THIRD silver diamond-shaped coin! Typically bursting with brilliance, an oval-cut diamond's elongated shape adds to its sparkling allure—it's the sophisticated choice for those seeking the fire and brilliance of a round cut diamond, but in a more distinct shape. Its eye-catching oval silhouette, along with its complex faceting structure, inspired our third 99.99% pure silver diamond-shaped coin. Another dazzling showpiece, this limited-edition collectible is shaped to match the patented cut of the 0.23 carat Forevermark Black Label oval diamond embedded on one of its facets, where the precision-cut gemstone radiates beauty and elegance.
An exquisite pairing: a pure silver "diamond" and a sparkling Forevermark oval-cut diamond.
Special features
Third silver diamond-shaped coin. Like the 2020 (square cut) and 2021 (round cut) offerings, this 99.99% pure silver coin celebrates the incomparable beauty of a Canadian diamond by perfectly replicating a popular diamond shape: an oval cut diamond.
The collaboration continues. This magnificent collectible combines world-class engraving with Crossworks Maufacturing's exclusive patented diamond cuts, as well as the sophisticated elegance of De Beers Forevermark diamonds.
A tradition of fine craftsmanship. Getting the right diamond shape, with its many precisely angled facets, represents an enormous undertaking. This coin stands as a testament to the ingenuity and skill of our R&D and engraving teams.
Special capsule. Your coin comes enclosed in a 3D diamond-shaped capsule that protects your new luxury showpiece and ensures an eye-catching presentation from start to finish.
Low mintage. Only 850 coins are available to collectors worldwide.
The collector's choice. Previous Forevermark Black Label Diamond coins sold out quickly. Don't miss out on this gorgeous Canadian diamond showcase—order today!
Comes with two certificates. The Royal Canadian Mint certifies all of its collector coins, including this spectacular piece, which comes with TWO certificates: a serialized one certifying your coin's authenticity, and another from Crossworks Manufacturing for the diamond.
No GST/HST
PACKAGING
Your coin is enclosed in a diamond-shaped capsule and presented in a Royal Canadian Mint-branded clamshell with a black beauty box.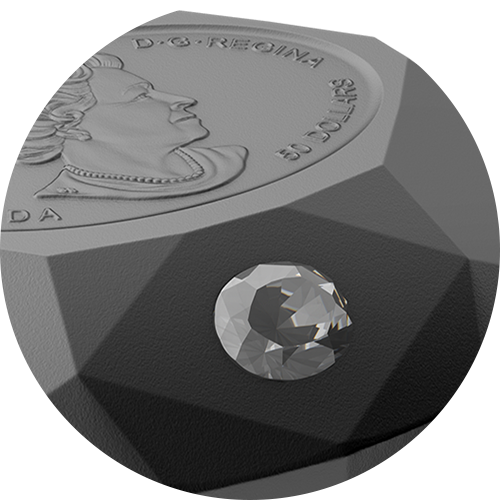 Features a 0.23-carat forevermark diamond
Embedded on one of the coin's engraved facets, the 0.23-carat Forevermark Black Label Oval Diamond and its complex, patented cut inspired this premium collectible's multi-dimensional shape and facets.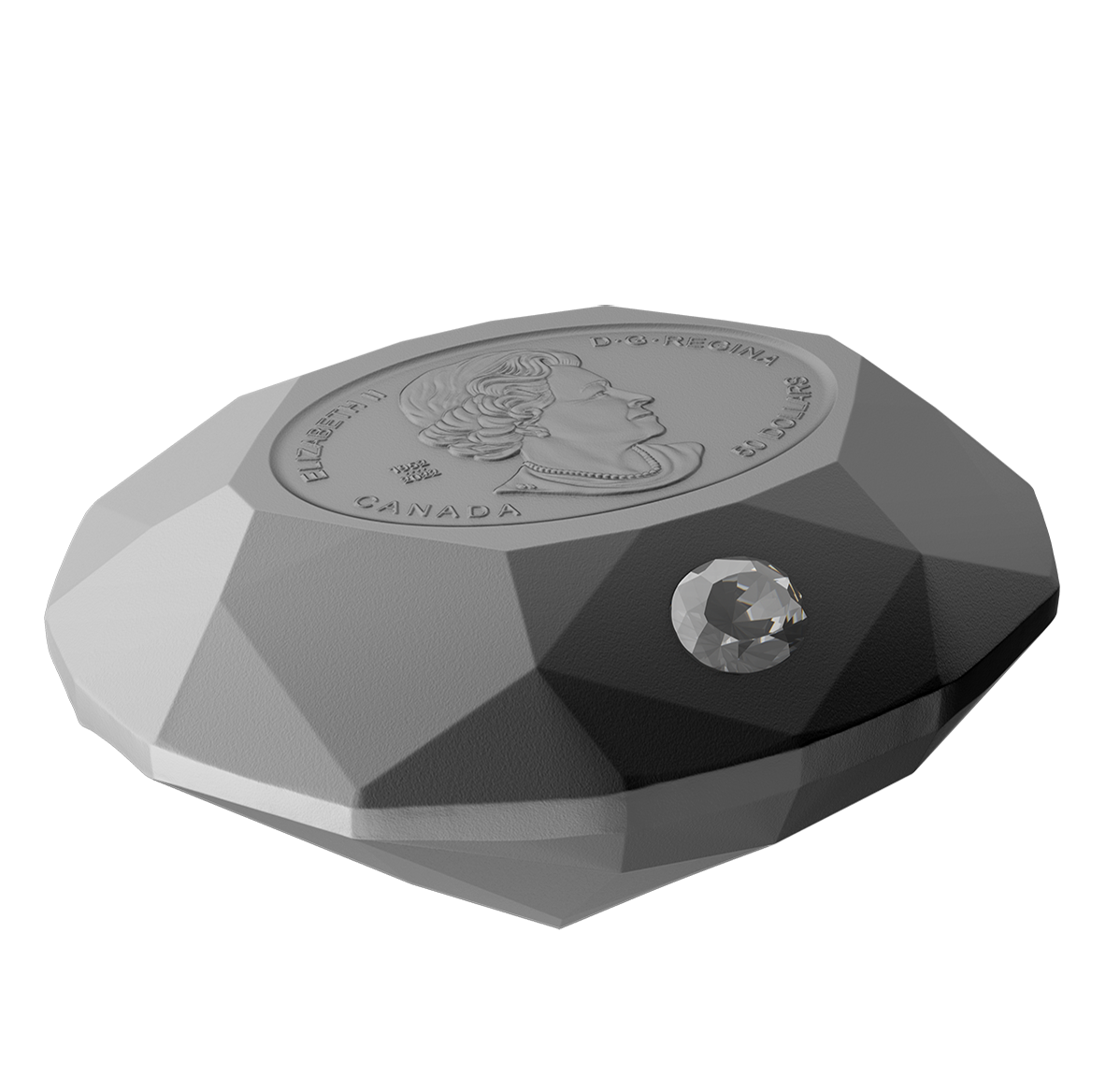 A Canadian sparkler
Canada is one of the world's largest diamond producers. This coin has the added distinction of featuring a piece of Canada's mining history: its diamond having been sourced from one of Canada's finest diamond mines. The coin itself features a matte proof finish that emphasizes the diamond's sparkle.
Composition
99.99% pure silver
Dimensions
36.3 x 29.7 x 21.2
Packaging
Custom capsule in black clamshell case with certificates of authenticity from Mint and Crossworks Manufacturing
Artist
The Royal Canadian Mint (reverse), Susanna Blunt (obverse)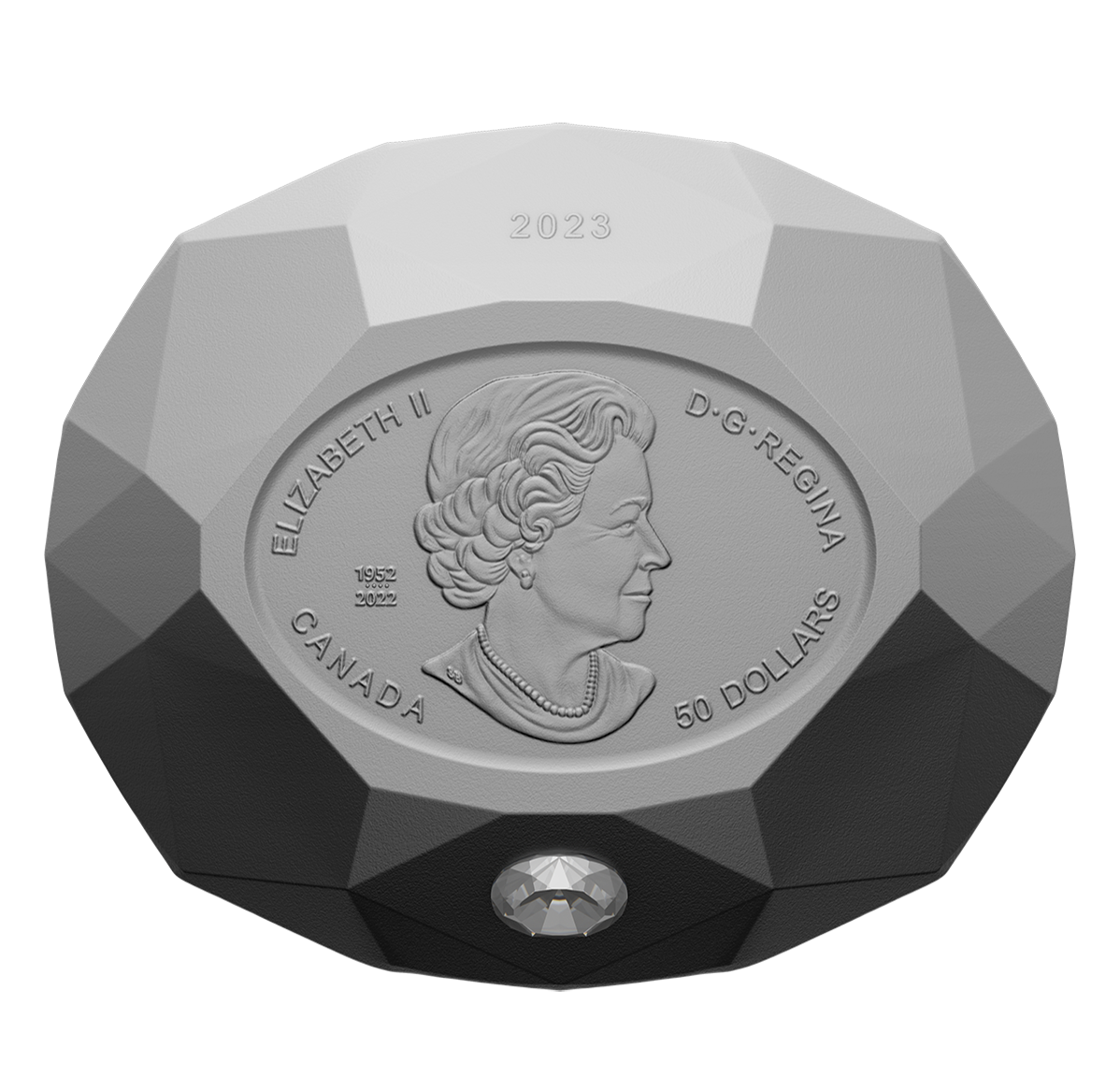 Your coin's unique shape and multi-faceted design are an exact reproduction of a patented trademark diamond cut from Crossworks Manufacturing, as seen on Forevermark Black Label diamonds. Embedded on one of the crown main facets, the 0.23 ct. Forevermark Black Label Oval Diamond—inspired this coin's shape. The year "2023" is engraved on another crown main facet, while the word "CANADA", the denomination of "50 DOLLARS" and the effigy of Queen Elizabeth II by Susanna Blunt appear on the largest facet (the table). The obverse also bears a special marking that includes four pearls symbolizing the four effigies that have graced Canadian coins and the double date of her reign.
What do you want to know about this product?
Your product was successfully added to your collection.
The product could not be added