Pure Silver Coin with Black Light Effect – Pingualuit Crater: Crystal Eye of Nunavik
Pure Silver Coin with Black Light Effect – Pingualuit Crater: Crystal Eye of Nunavik
Masters Club:
6,500
Status:

CAN & US shipping only
Shipping:

Expected to be shipped on Oct 11
Discovery the beauty of Pingualuit Crater Lake… then activate the black light paint technology to see how it came to be!
In the heart of the lunar-esque landscape of the Ungava Peninsula, in Nunavik, Quebec, lies a breathtaking lake with pure blue waters that stand out in any aerial view. A geological marvel, Pingualuit Crater Lake was created when a meteorite struck the Earth approximately 1.4 million years ago. This colourful 99.99% pure silver coin offers you an awe-inspiring view of the natural wonder: under normal light, you see the Crystal Eye of Nunavik peering out into space; under a black light, the reverse design whisks you back in time for a view of the landscape-altering meteorite, mere moments before it slammed into prehistoric Canada and left an almost perfectly circular impact scar.
Enjoy a space view of the Crystal Eye—and the prehistoric meteorite that created it!
Special features
Brace for impact! Discover a marvel of nature, one uniquely shaped by a meteorite that collided with Earth 1.4 million years ago.
Journey through space and time. This gives you a front-row seat to an impact event that occurred 1.4 million years ago—an event that produced one of Canada's most amazing natural physical features, and one of the most impressive meteorite craters on Earth.
For the love of science and art. It's the perfect collectible or gift for astronomers, sky gazers, geologists and explorers.
Low, low mintage. Only 2,500 coins are available to collectors worldwide. Don't miss out—order yours today!
Includes serialized certificate. The Royal Canadian Mint certifies all of its collector coins.
No GST/HST
Packaging
Your coin is encapsulated and presented in a Royal Canadian Mint-branded clamshell with a black beauty box.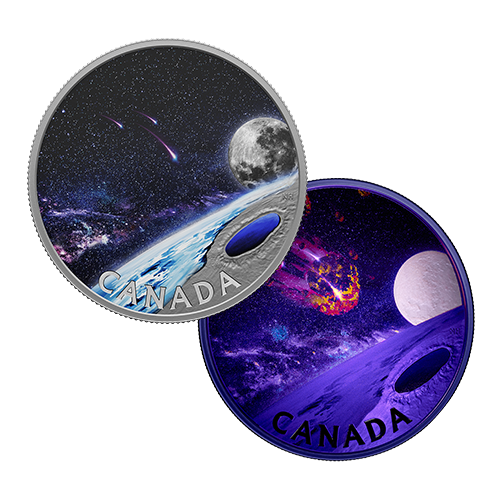 Two scenes on one coin
Your coin's reverse features a colourful space view of Pingualuit Crater Lake on the Ungava Peninsula, in Nunavik, Quebec. But a second image—one that only reveals itself under a black light—whisks you back in time, for a view of the meteorite on its collision course with prehistoric Canada and above the eventual impact site.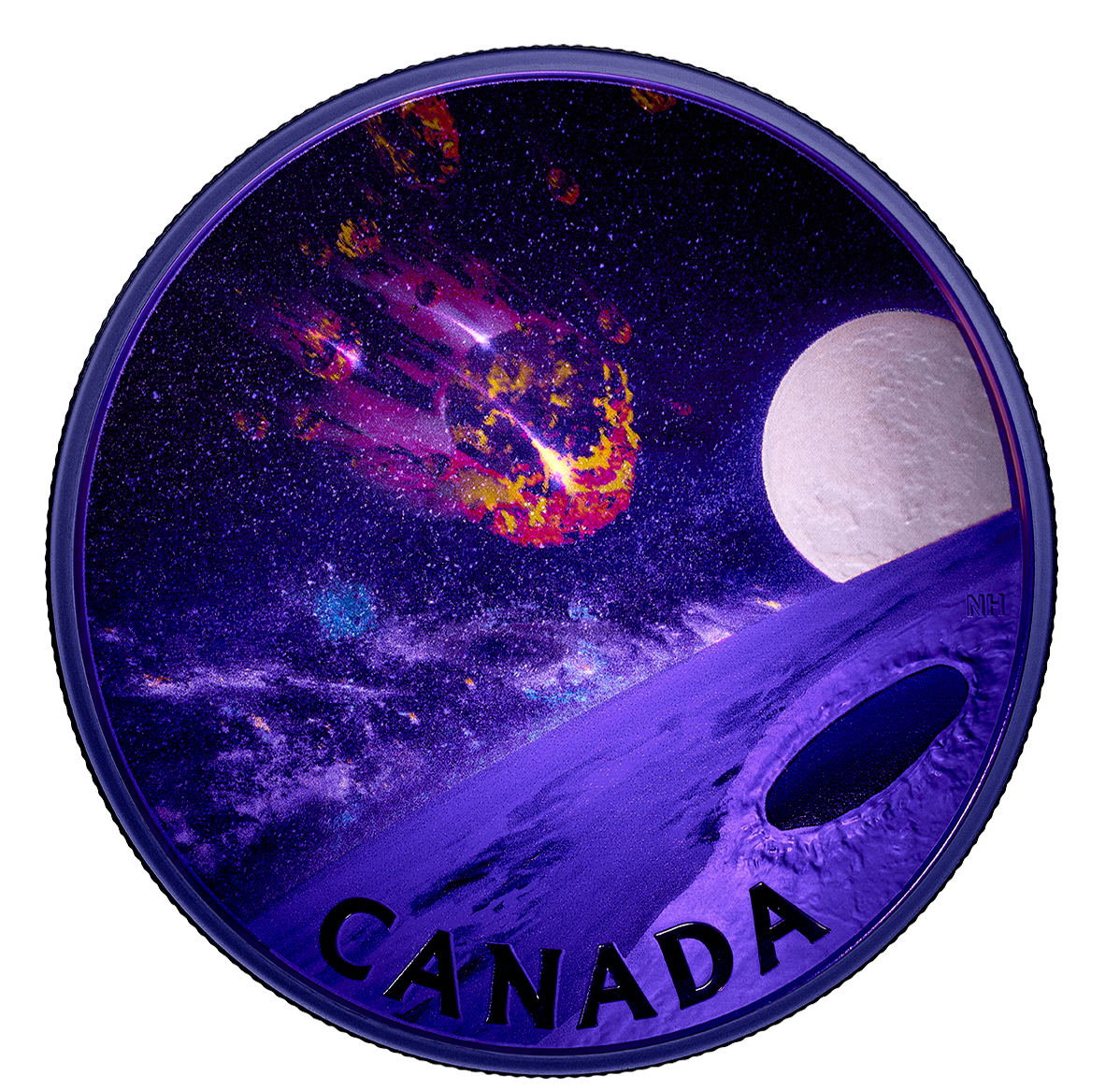 Black light flashlight included
Each coin comes with a black light flashlight: simply point the light at the coin for a few seconds to activate the embedded paint technology, and watch as the blue lake suddenly appears!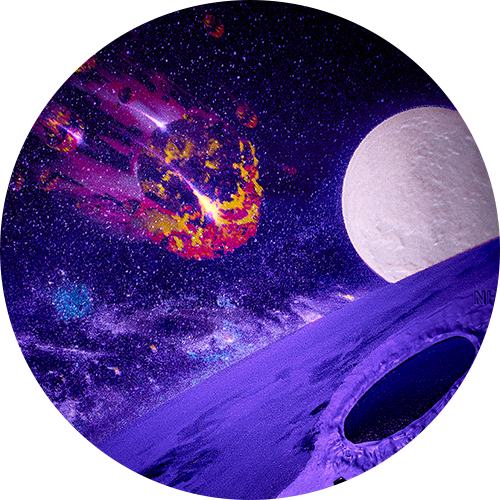 Wonders of the solar system
Already colourful, the space setting includes a Moon view and a glimpse of the Milky Way; these elements, as well as Earth's edge and the lake below, glow when the black light technology is activated.
Composition
99.99% pure silver, with black light paint technology
Packaging
Black clamshell with black beauty box
Artist
Neil Hamelin (reverse), Susanna Blunt (obverse)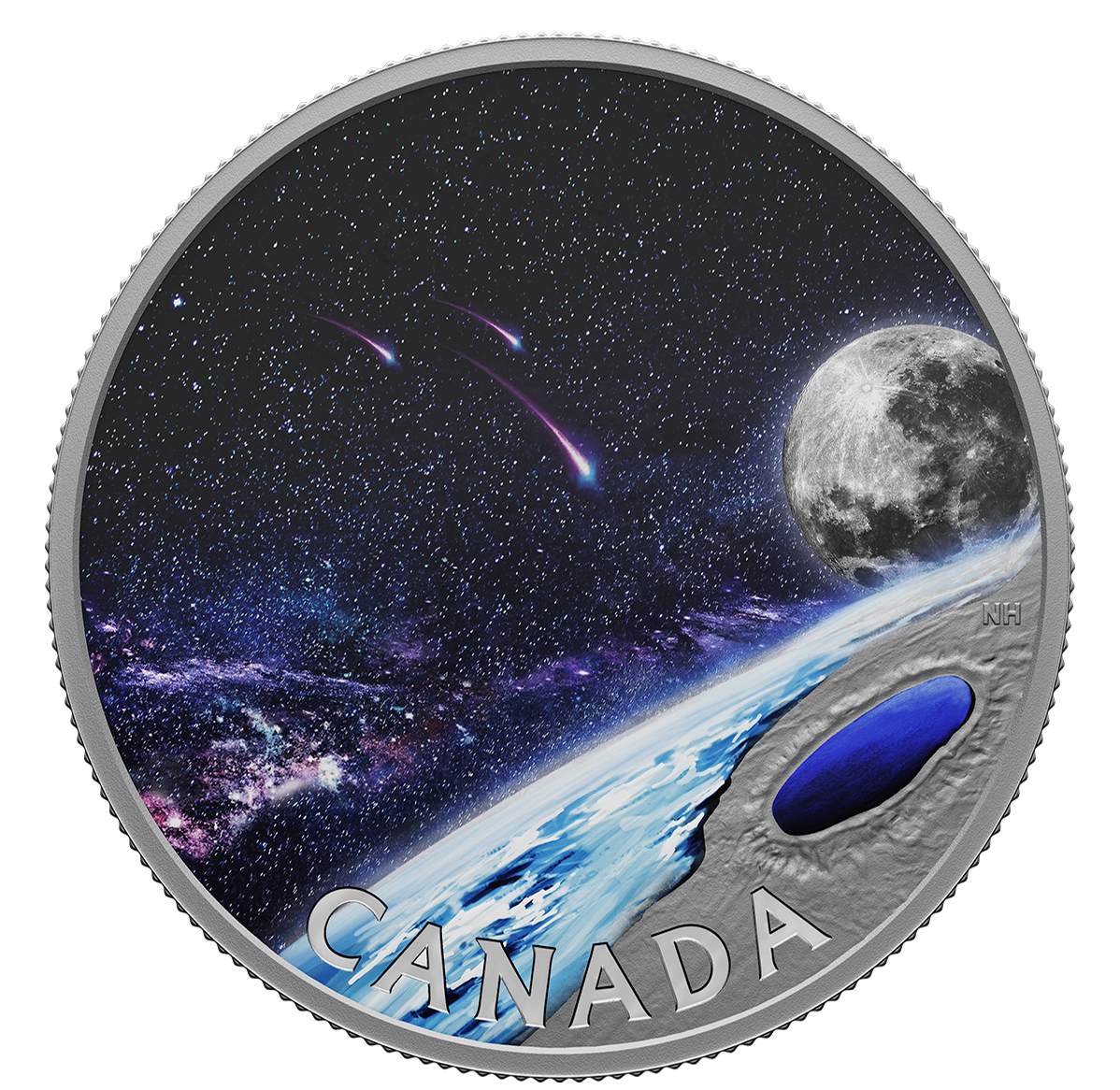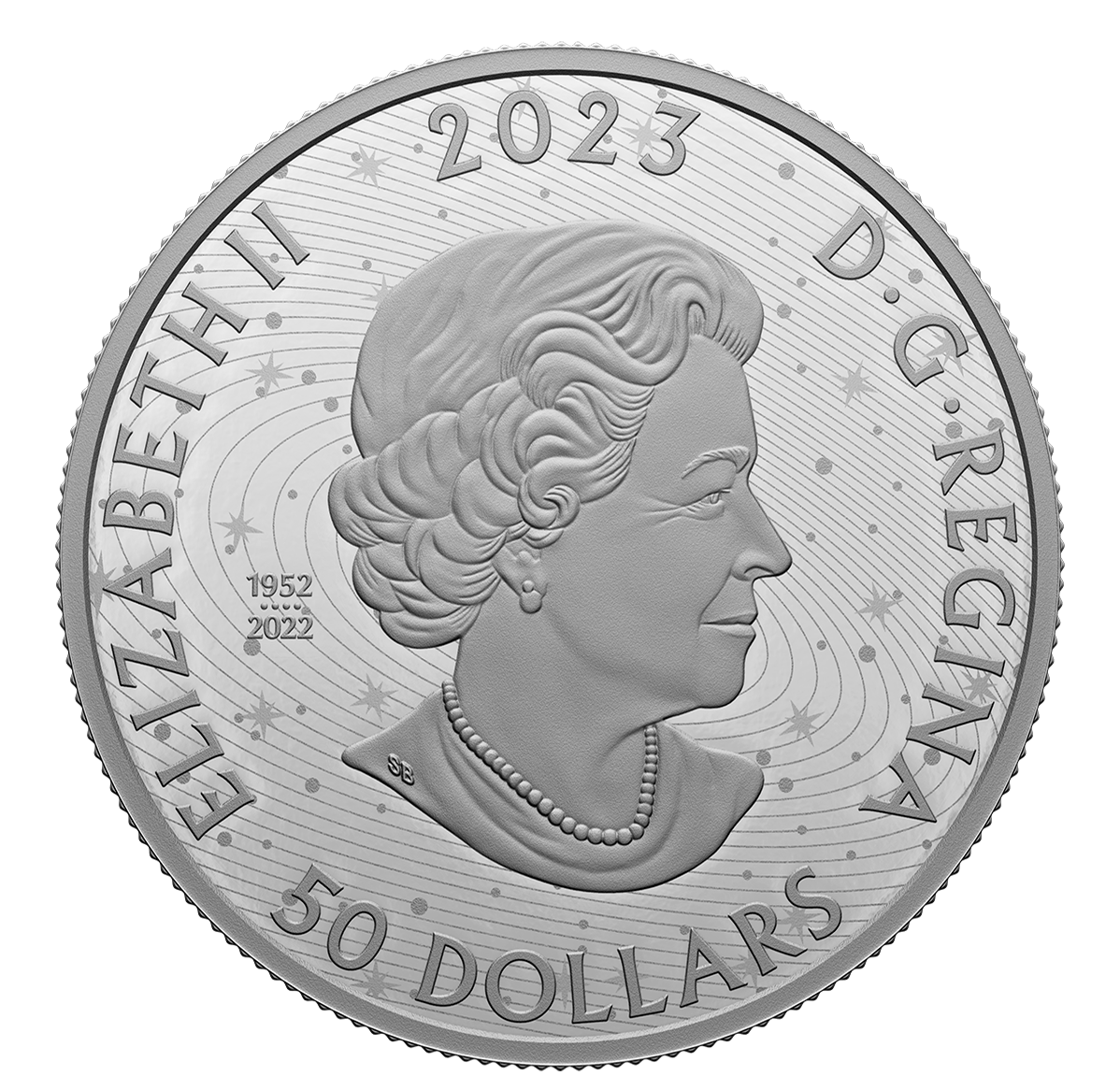 Designed by Canadian artist Neil Hamelin, your coin's reverse features a colourful space view of Pingualuit Crater Lake on the Ungava Peninsula, in Nunavik, Quebec. Above the blue circular lake and its (engraved) surroundings, the detailed depiction of the Moon, the shooting stars and the Milky Way inspire awe for the wonders of the cosmos, and a deeper understanding of both the splendour and vulnerability of Earth. These elements glow when viewed under black light, which reveals a second image: a view of the meteorite on its collision course with Earth and directly above its eventual impact site. The obverse features the effigy of Queen Elizabeth II by Susanna Blunt. The obverse also bears a special marking that includes four pearls symbolizing the four effigies that have graced Canadian coins and the double date of her reign.
What do you want to know about this product?
Your product was successfully added to your collection.
The product could not be added