Pure Gold Coin – Tall Ships: Full-Rigged Ship
Pure Gold Coin – Tall Ships: Full-Rigged Ship
$1,999.95 CAD
Pay up to 6 monthlyinstallments of $333.33 CAD.
Masters Club:
20,000
Status:

CAN & US shipping only
Shipping:

Expected to be shipped on Dec 15
Our second tall ship has all the sails and spars it could carry. Order Coin #2 today!
With its iconic triangular staysails and square-rigged sails on all three (or more) masts, a full-rigged ship—like the one featured on the second Tall Ships pure gold coin—inspires a sense of dignified magnificence. That full complement of sails, so beautifully depicted on your coin's reverse, makes it ideal for hauling goods and people over great distances and across deep seas, even in unpredictable conditions. The full-rigged ships of the 18th, 19th, and even 20th centuries facilitated the development of Canada—from the frigates built to defend these shores, to the cargo-carrying ships that supplied this fledgling nation.
Grow your fleet by adding a second Tall Ships coin to your collection.
Special features
Coin #2. The annual Tall Ships series of pure gold coins celebrates the legendary vessels that drew international acclaim for Canada's shipyards and contributed to our rich maritime heritage.
Back to the golden age of sail. Each instalment showcases a different type of tall ship or sail plan, beginning with the brigantine on the 2022 coin (Coin #1) and continuing with the full-rigged ship featured here.
Tall ships: a popular theme. A prestigious addition to any collection, especially a gold, history or nautical-themed one.
Includes serialized certificate. The Royal Canadian Mint certifies all of its collector coins.
No GST/HST
Packaging
Your coin is individually encapsulated and presented in a black Royal Canadian Mint-branded clamshell with a black beauty box.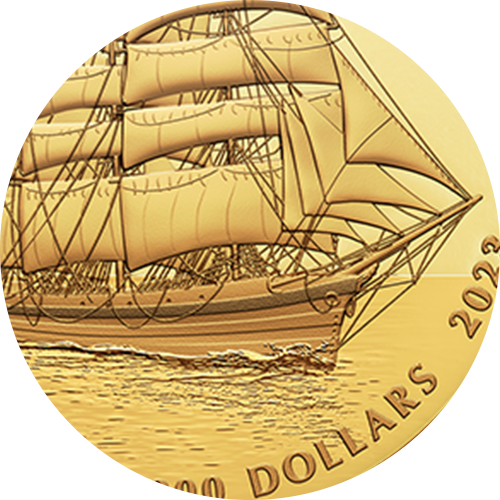 Impeccable craftsmanship
Every Tall Ships coin is an expertly engraved and exquisitely detailed portrait of Canada's past. These are the wooden ships that shaped the course of Canada's history, and they served as a testament to our nation's seafaring traditions and shipbuilding prowess.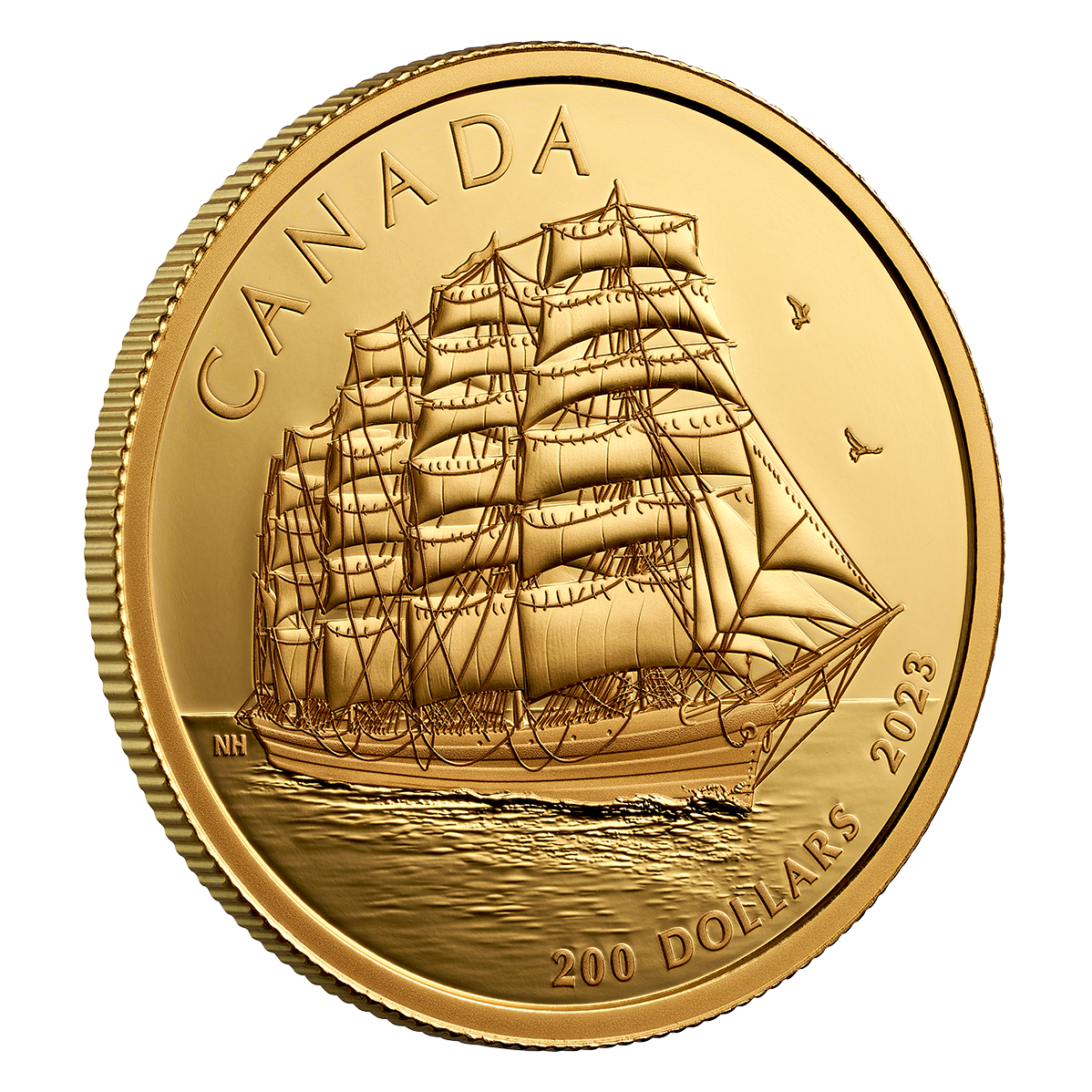 Pure gold portrait
Your low mintage (800) coin is crafted from 99.99% pure gold. Its luminous, mirror-like finish lights up the engraved art on the coin's reverse.
Composition
99.99% pure gold
Packaging
Black clamshell with black beauty box
Artist
Neil Hamelin (reverse), Susanna Blunt (obverse)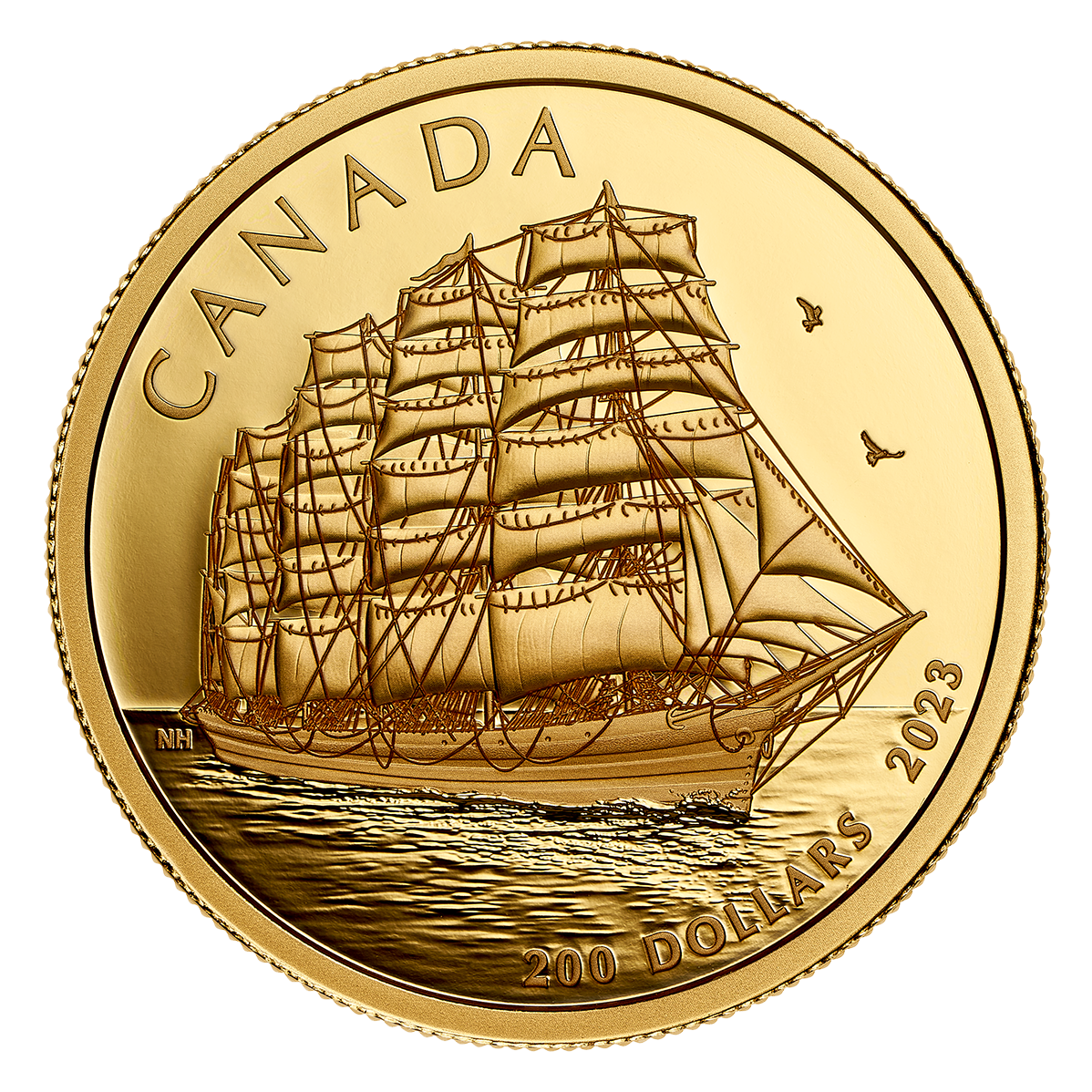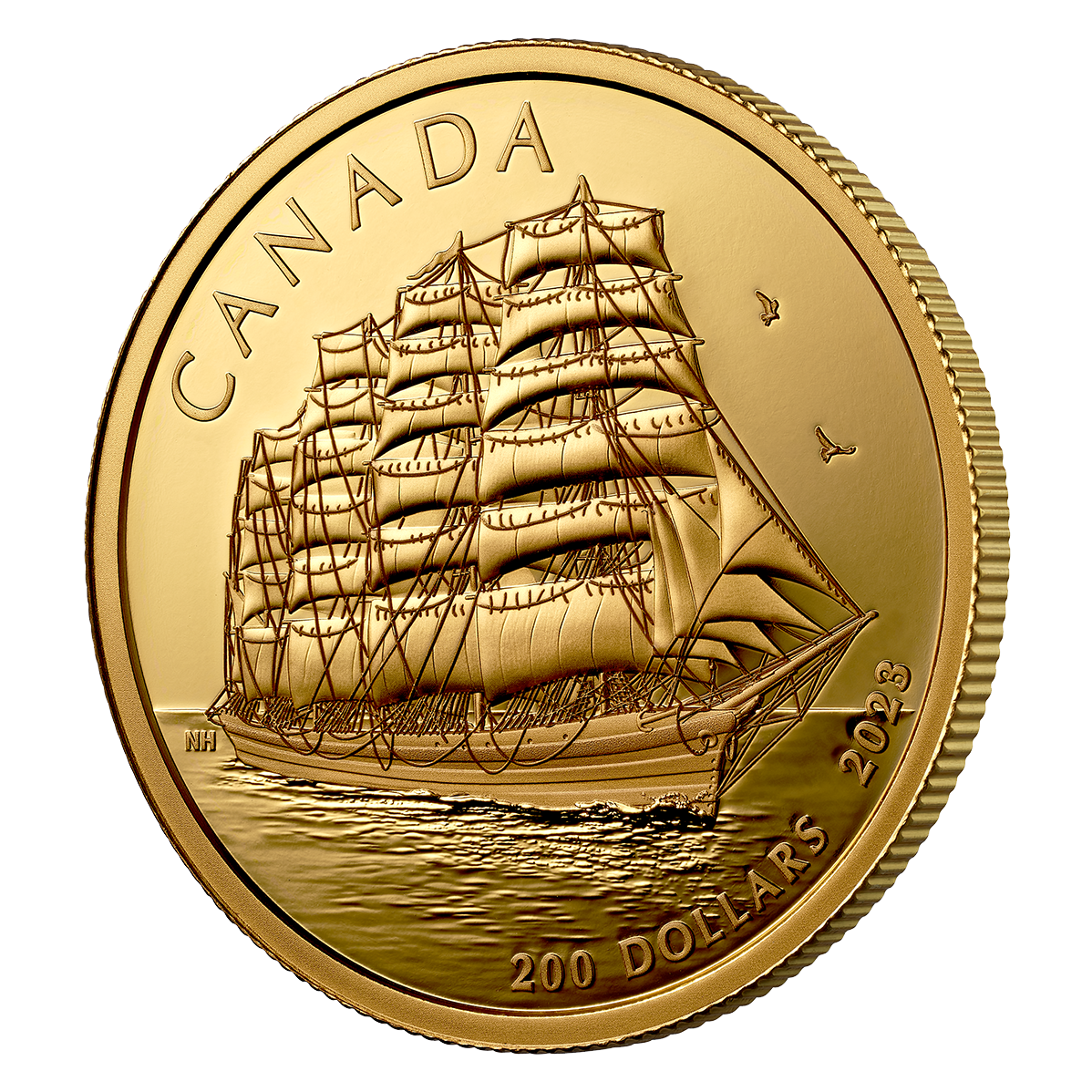 Inspired by the ships from Canada's past, the reverse design by Canadian artist Neil Hamelin features an early morning view of a full-rigged ship sailing in calm waters with all sails set. The reverse includes the word "CANADA", a face value of "200 DOLLARS" and the year "2023". The obverse features the effigy of Queen Elizabeth II by Susanna Blunt. The obverse also bears a special marking that includes four pearls symbolizing the four effigies that have graced Canadian coins and the double date of her reign.
What do you want to know about this product?
Your product was successfully added to your collection.
The product could not be added