Fine Silver Proof Dollar– Kathleen "Kit" Coleman: Pioneer Journalist
Fine Silver Proof Dollar– Kathleen "Kit" Coleman: Pioneer Journalist
Masters Club:
700
Status:

CAN & US shipping only
Shipping:

Expected to be shipped on Dec 15
Pencil to paper to metal: The journey of journalism pioneer Kit Coleman is honoured on the 2023 Proof Dollar.
Who was "Kit"? That's what readers of the Toronto Daily Mail (later The Mail and Empire) were asking, as they pored over the writings of Kathleen Blake Coleman. An intrepid reporter with a lively journalistic voice, "Kit" Coleman rose above the fray in the male-dominated newspaper industry, tackling a wide range of issues as well as the topics typically covered in women's columns. She made history 125 years ago by becoming North America's first accredited woman war correspondent. Coleman also helped establish the Canadian Women's Press Club in 1904 and served as its first president, and later became Canada's first syndicated woman columnist.
In a time when women journalists were limited to writing about the female perspective and women's issues, Kathleen Blake Coleman paved the way for better representation in newsrooms and a more equal standing for Canadian women in other aspects of life.
Kathleen "Kit" Blake Coleman: A journalism pioneer deserving of her place on the 2023 Proof Dollar.
Special features
A journalism pioneer. One of Canada's most successful early presswomen and a woman of many firsts, journalist Kathleen "Kit" Blake Coleman is honoured on Canada's Proof Dollar in 2023, which marks the 125th anniversary of her becoming North America's first accredited woman war correspondent.
Your proof dollar for 2023. Crafted in 99.99% pure silver, the annual Fine Silver Proof Dollar is our flagship collector coin and one of the year's most anticipated collectibles.
Limited supply. Only 35,000 coins—a lower mintage than in 2022—are available to collectors worldwide.
Also available: The 2023 Fine Silver Proof Dollar honouring Kathleen "Kit" Blake Coleman is included in the 2023 Special Edition Proof Set, and you'll find a selectively gold-plated version in the 2023 Fine Silver Proof Dollar Set.
Includes serialized certificate. The Royal Canadian Mint certifies all of its collector coins.
NO GST/HST. (if applicable)
Packaging
Your coin is encapsulated and presented in a Royal Canadian Mint-branded clamshell with a black beauty box.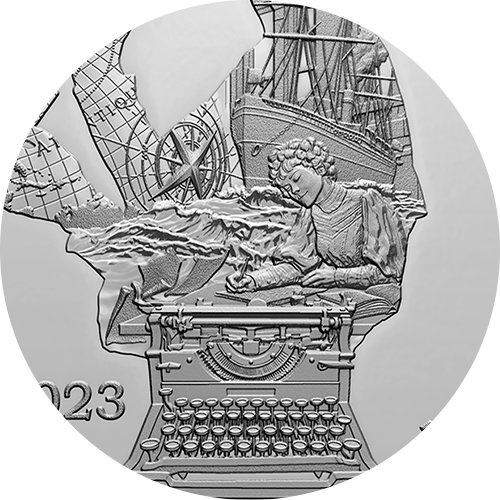 A design within a design
The silhouette collage on your coin's reverse captures key moments in the journalist's life—from the office of the Toronto newspapers that published her columns from 1889 to 1911, to the vintage typewriter that represents her legacy and impact on journalism.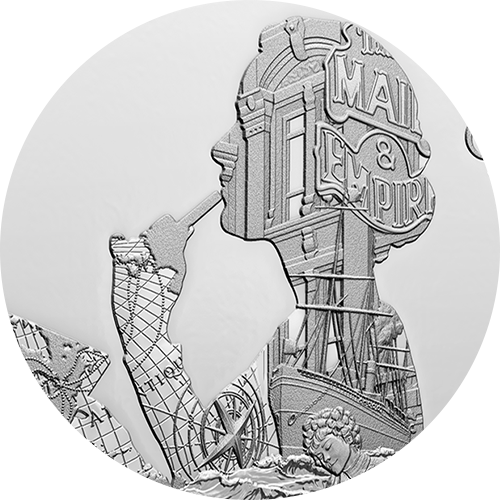 An outstanding sculpt
Your Fine Silver Proof Dollar's collage-within-a-silhouette design is incredibly detailed, and all those finely engraved elements are enhanced by a mix of frostings that help make each image distinct from the other.
Composition
99.99% pure silver
Packaging
Black clamshell with black beauty box
Artist
Pandora Young (reverse), Susanna Blunt (obverse)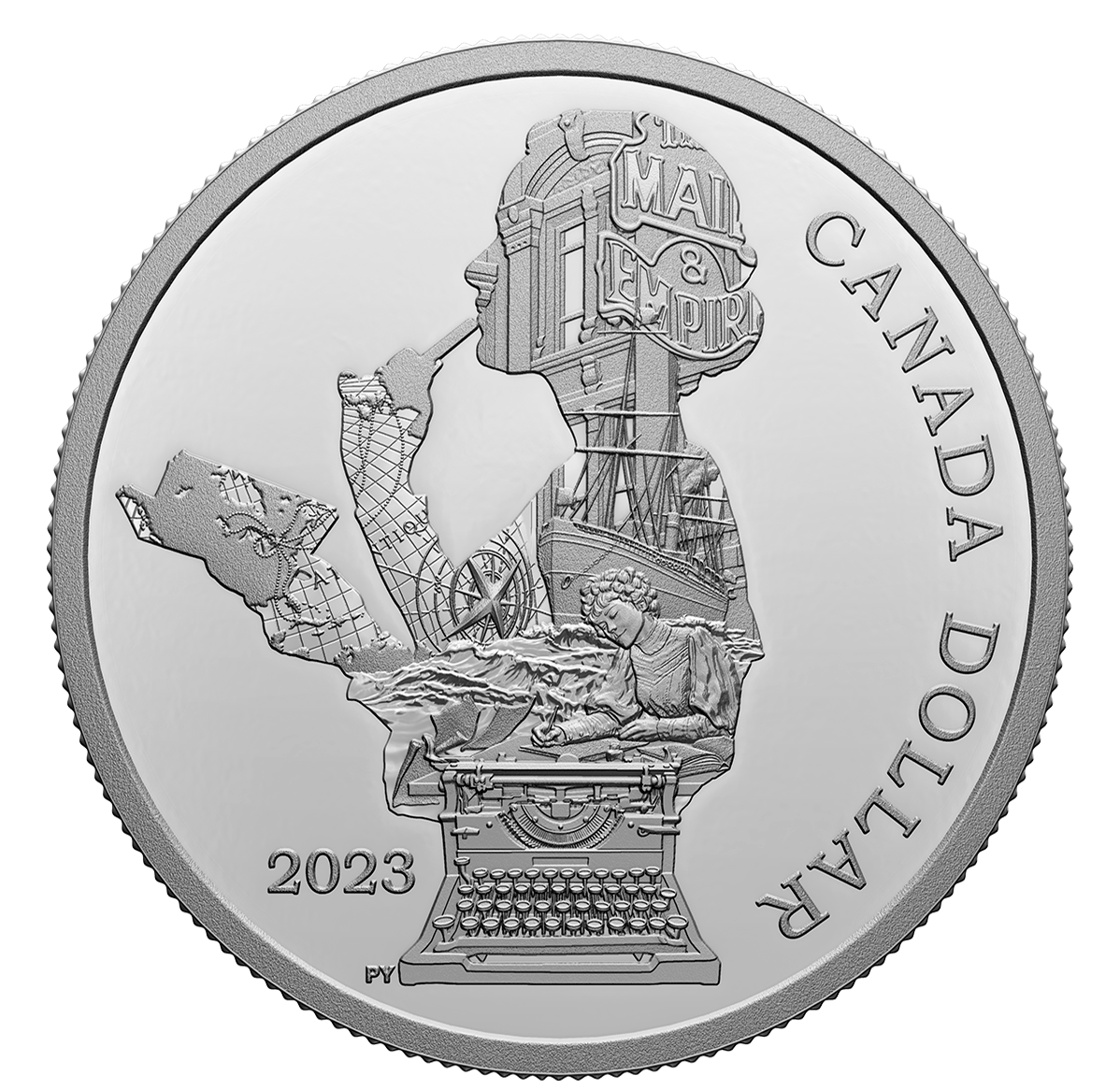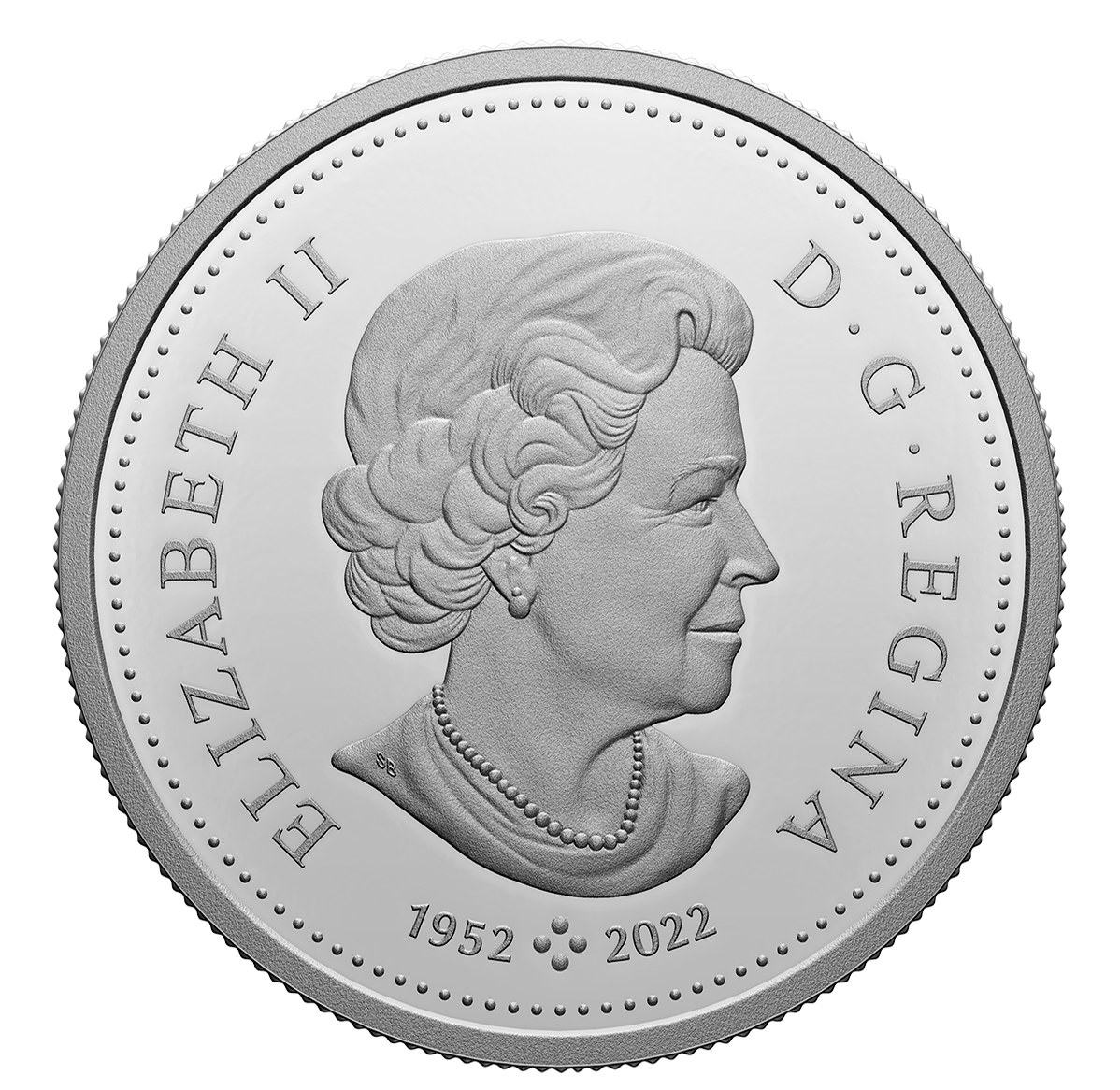 Designed by Canadian artist Pandora Young, your coin's reverse features a silhouette of journalist Kathleen "Kit" Blake Coleman (1856-1915) holding an open notebook and pen. Within that silhouette are various elements that represent her life and career (from top to bottom): The Mail and Empire building in Toronto, Ont.; SS Circassian, the passenger ship that brought the Irish-born writer to Canada in 1884; a partial map of the Atlantic Ocean, to represent Coleman's travels and dispatches; a view of Coleman writing at her desk; and a vintage typewriter that symbolizes her legacy and impact on Canadian journalism. The obverse features the effigy of Queen Elizabeth II by Susanna Blunt. The obverse also bears a special marking that includes four pearls symbolizing the four effigies that have graced Canadian coins and the double date of her reign.
What do you want to know about this product?
Your product was successfully added to your collection.
The product could not be added