$20 Pure Silver Hexagon Coin with Crystal – Snowflake
$20 Pure Silver Hexagon Coin with Crystal – Snowflake
Masters Club:
1,400
Status:

CAN & US shipping only
Availability:

Out of stock in stores
Shipping:

Expected to be shipped on Nov 15
A fun new series and a fun new shape: a HEXAGON.
It sparkles on a sunny winter day and shimmers on a cold moonlit night—wherever a snow crystal lands, its delicate form is as ethereal as it is enchanting, and the ice crystal that landed on this coin's reverse is no exception. Snow crystals, such as the stellar dendrite featured here, are beautifully varied and unique, and most of them feature six points or sides, which inspired our first hexagon coin. Its outline emphasizes the elaborate form of the snow crystal engraved on your coin's reverse, which is dotted with a sparkling clear crystal. Looking closely at the magnified view, you'll notice each of those fern-like branches are slightly different, which reflects the natural variations of shape that make these works of art endlessly fascinating—in nature, and on your Snowflake coin.
Introducing our first hexagon coin, which features a sparkling snow crystal.
Special features
A fun new series begins. For this new series, we're revisiting a popular theme: snow crystals, which were last seen on the much-loved Snowflake coins (the last one was 2018's Ice Crystals).
New coin shape. A first for the Royal Canadian Mint, this hexagon coin introduces a six-sided shape that perfectly complements the six-sided snow crystal engraved on its reverse.
Low mintage. Each crafted in 1 oz. of 99.99% pure silver, only 8,500 coins are available to collectors worldwide.
Includes serialized certificate. The Royal Canadian Mint certifies all of its collector coins.
Packaging
Your coin is encapsulated and presented in a newly developed, Royal Canadian Mint-branded, graphic paperboard case that also holds the certificate of authenticity. An insert allows you to easily display your encapsulated coin.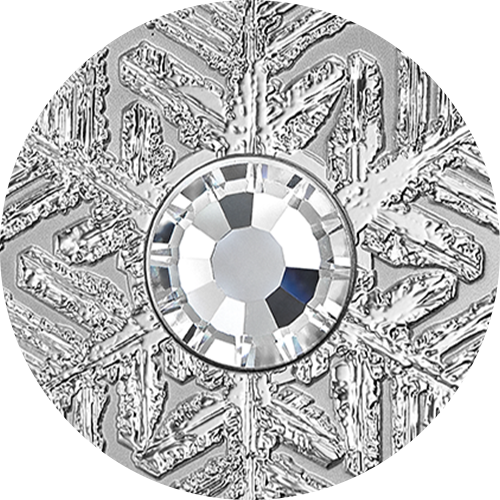 Sparkling crystal
At the centre of this snowflake lies an exquisite clear crystal that sparkles in the light—the effect is reminiscent of snow sparkle, caused by sunlight reflecting off snow crystals on a beautiful winter day.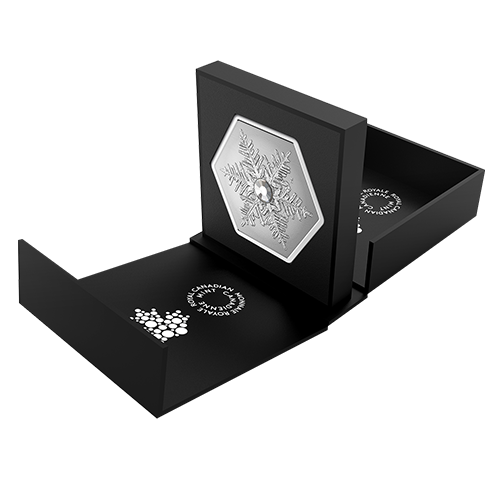 New packaging
Your coin comes packaged in an innovative new graphic paperboard case that also holds the certificate of authenticity. An insert allows you to easily display your encapsulated coin.
Composition
99.99% pure silver with a clear crystal
Packaging
Graphic paperboard case
Artist
Don Komarechka (reverse), Susanna Blunt (obverse)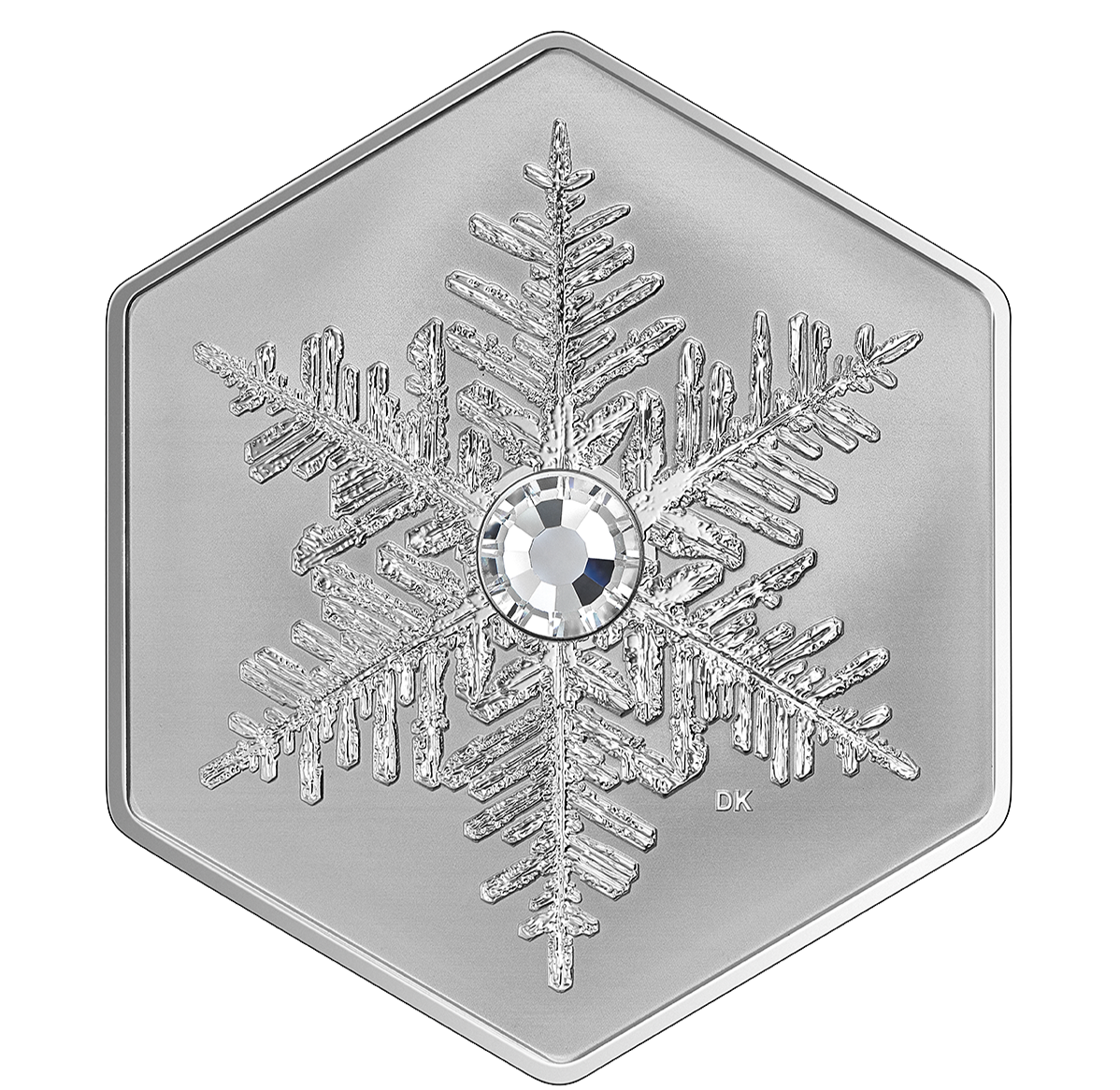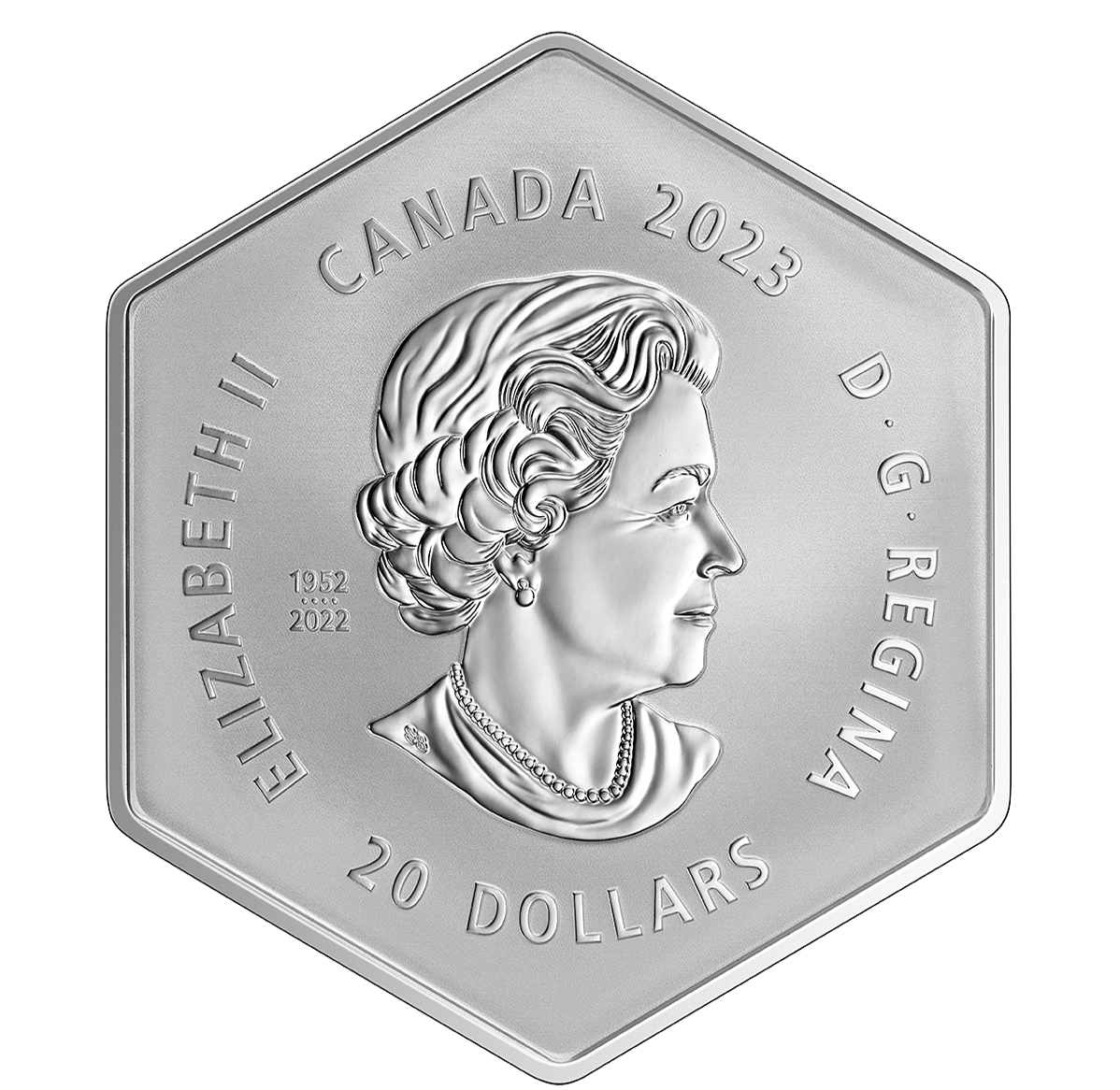 Your coin's reverse features a magnified view of a stellar dendrite ice crystal captured by Canadian photographer Don Komarechka and intricately reproduced by Royal Canadian Mint engravers. The coin's reverse proof finish directs light onto the six frosted, fern-like branches or arms, while the clear crystal at the centre adds a touch of winter's sparkle. The obverse features the effigy of Queen Elizabeth II by Susanna Blunt. The obverse also bears a special marking that includes four pearls symbolizing the four effigies that have graced Canadian coins and the double date of her reign.
What do you want to know about this product?
Your product was successfully added to your collection.
The product could not be added