$20 Fine Silver Ultra High Relief Coin – Great Hunters: Grizzly Bear
$20 Fine Silver Ultra High Relief Coin – Great Hunters: Grizzly Bear
Masters Club:
1,400
Status:

CAN & US shipping only
Shipping:

Expected to be shipped on Oct 11
A growling grizzly bear in Ultra High Relief—a commanding example of a portrait of strength from Canada's wilderness.
Few North American species are as revered as the enigmatic grizzly bear. A long-time symbol of strength and of our wild spaces, Ursus arctos horribilis has the reputation of being a skilled hunter, a resourceful scavenger and a fiercely protective mother. Grizzly bears prefer to remain out of sight in Canada's western forests and Arctic tundra, but when it does come into view, this strong and intelligent creature instantly commands all our attention and respect—especially when its likeness is captured in Ultra High Relief (UHR) and in 99.99% pure silver, as seen on this coin.
Marvel at this fine silver UHR portrait of strength in the wilds of Canada.
Special features
Stunning Ultra High Relief (UHR). The Ultra High Relief height of 1.4 mm brings outstanding height and depth to this meticulously engraved portrait of the grizzly bear, which stands out against the forest backdrop.
View a great hunter in its Canadian habitat. Powerful and solitary, the grizzly bear has long typified the Canadian wilderness; on this coin's reverse, it serves as a commanding example of strength.
That pure silver shine. Your coin is 99.99% pure silver and features a luminous proof finish.
A limited collectible. Mintage is limited to 6,000 coins worldwide.
Includes serialized certificate. The Royal Canadian Mint certifies all of its collector coins.
No GST/HST.
Packaging
Your coin is encapsulated and presented in a Royal Canadian Mint-branded clamshell with a black beauty box.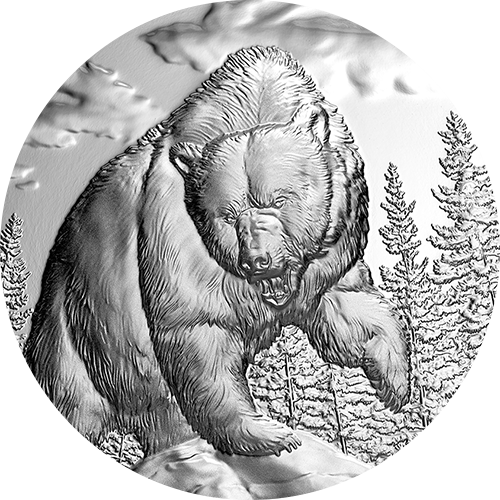 A more expansive UHR view than ever before
Your coin presents a full-body view with multi-level relief heights using our most innovative UHR minting relief technique to date.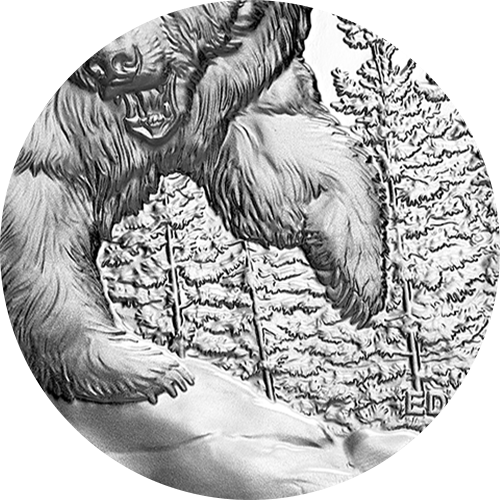 Multiple frostings for dynamic light play
The artistry doesn't end at the engraving: multiple frostings alter the way the light reflects off the different design elements, creating a more realistic rendering of both the grizzly bear and its surroundings.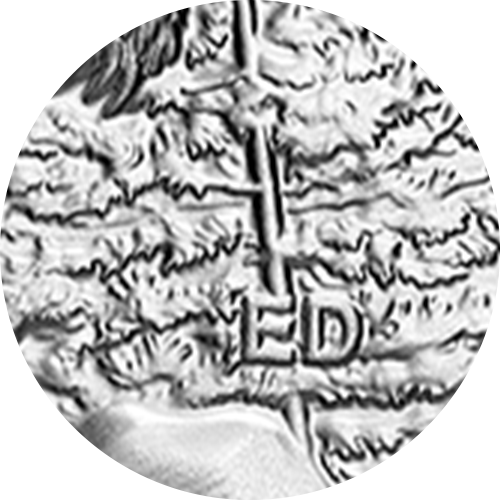 An Emily Damstra original
Your coin's reverse was designed by Emily Damstra, the award-winning artist who has created many coin designs for the Royal Canadian Mint and the United States Mint, including the American Silver Eagle Type 2 coin.
Composition
99.99% pure silver
Packaging
Black clamshell with black beauty box
Artist
Emily Damstra (reverse), Susanna Blunt (obverse)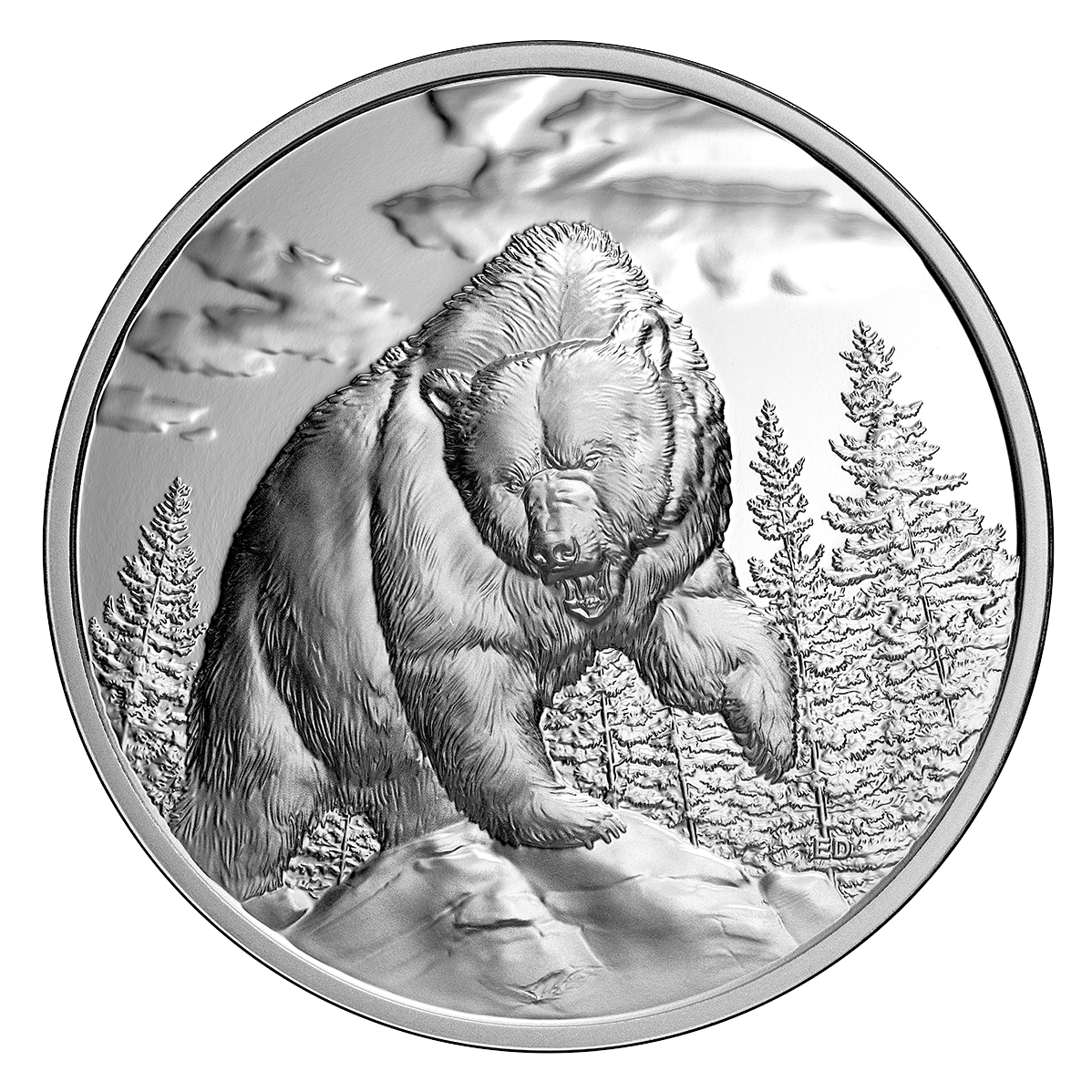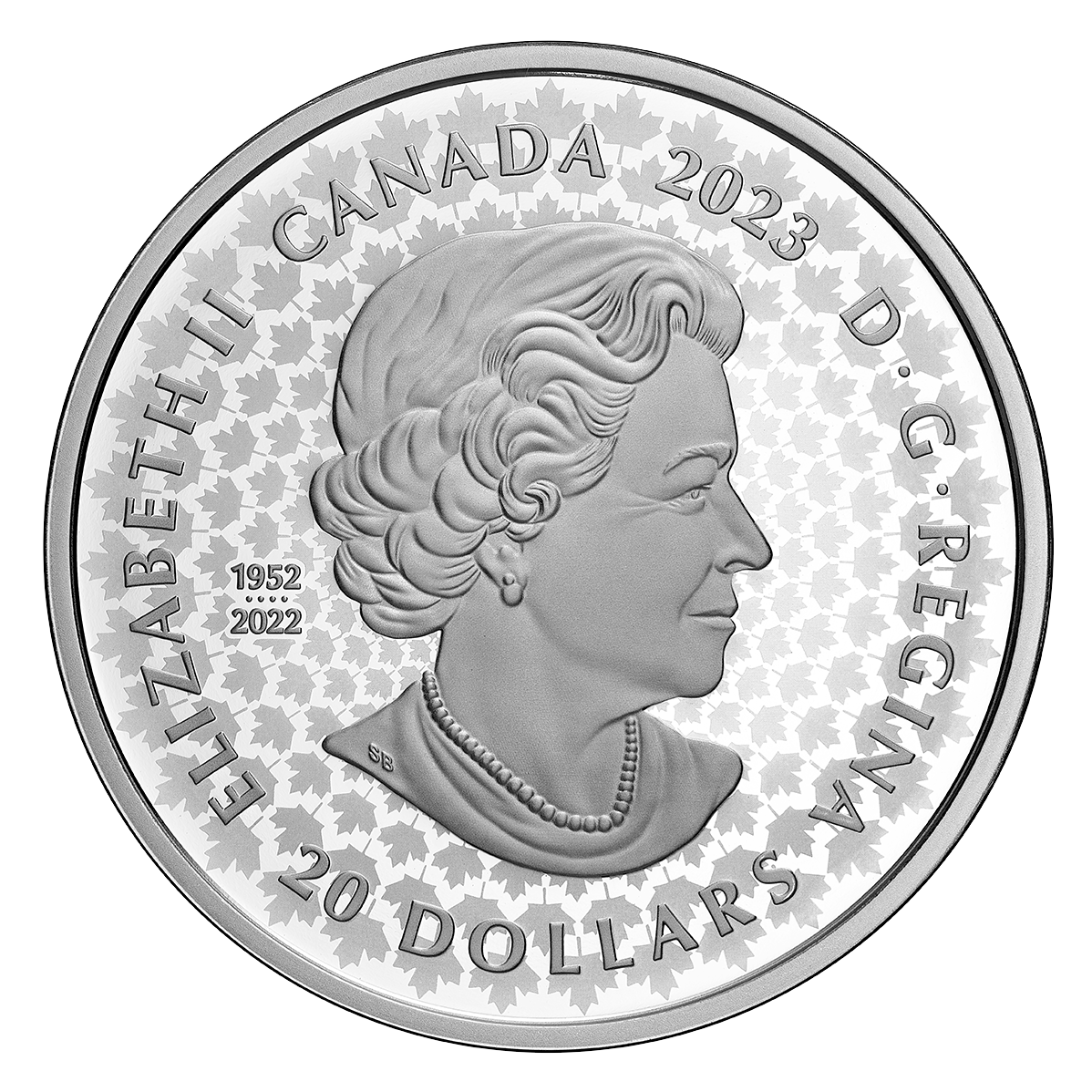 Designed by artist Emily Damstra, your coin's reverse invites you to step into the boreal forest of Western Canada, where the grizzly bear (Ursus arctos horribilis) reigns supreme. The low perspective, combined with Ultra High Relief (UHR), emphasizes the grizzly bear's imposing size and appearance. Standing on a rock outcrop or cliff and surrounded by towering conifers, the elusive grizzly has perceived a threat as it looks down from its perch, the bear has raised its paw as if to strike and has a fierce expression on its face. The obverse features a maple leaf pattern behind the effigy of Queen Elizabeth II by Susanna Blunt. The obverse also bears a special marking that includes four pearls symbolizing the four effigies that have graced Canadian coins and the double date of her reign.
What do you want to know about this product?
Your product was successfully added to your collection.
The product could not be added