1 oz. Pure Silver Coin – The Magic of the Season
1 oz. Pure Silver Coin – The Magic of the Season
Masters Club:
1,150
Status:

CAN & US shipping only
Shipping:

Expected to be shipped on Oct 16
A moonlit surprise of festive colour: Relive your holiday memories with Santa and his reindeer.
A flash of colour. A swirl of snow. The sound of sleighbells filling the air. It's a sight that many of us secretly hope to witness on Christmas Eve: Santa Claus and his team of magical reindeer streaking across the night sky, en route to deliver gifts to the children of the world! The thrill and wonder of the holiday season are captured on this fine silver coin's colourful reverse, but to get the full effect, you'll want to view this nighttime scene under a black light (included), which activates a magical moonlight glow effect.
A Santa scene to brighten your winter days (and nights)!
Special features
An affordable gift. Affordably priced, this soon-to-be-cherished keepsake is a fun way of sharing your hobby with friends and loved ones of all ages.
Low mintage. Only 7,500 are available to collectors worldwide, and previous holiday coins sold out quickly.
Includes serialized certificate. The Royal Canadian Mint certifies all of its collector coins.
No GST/HST.
Packaging
Your coin is encapsulated and presented in a Royal Canadian Mint-branded clamshell with a black beauty box, and includes a black light flashlight.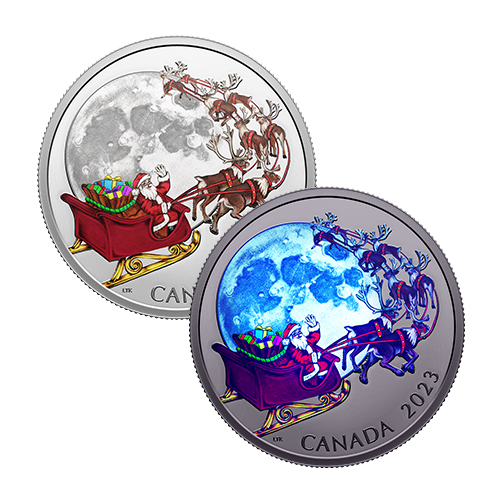 A special 2023 keepsake
Relive your cherished holiday memories with this magical view of Santa and his reindeer! It is sure to bring holiday cheer, and the black light reveal makes for a magical viewing experience!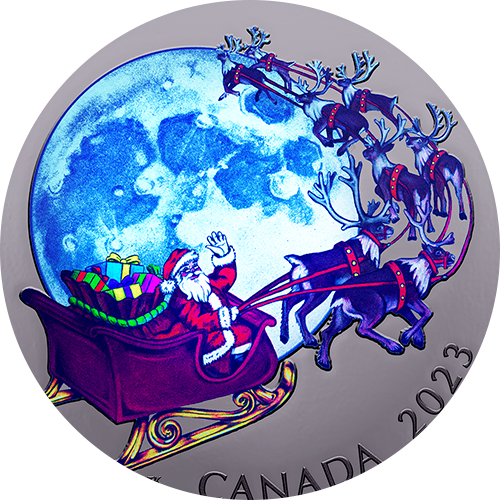 Includes black light flashlight
The engraved design and festive colours are visible in daylight, but there's a hidden element: move to a dark area, turn on your black light flashlight (included) and hold it over the coin's reverse to activate the moonlight glow, which captures that magical "night before Christmas" feeling.
Composition
99.99% pure silver with selective colour and black light technology
Packaging
Black clamshell with black beauty box, includes a black light flashlight
Artist
Lisa Thomson-Khan (reverse), Susanna Blunt (obverse)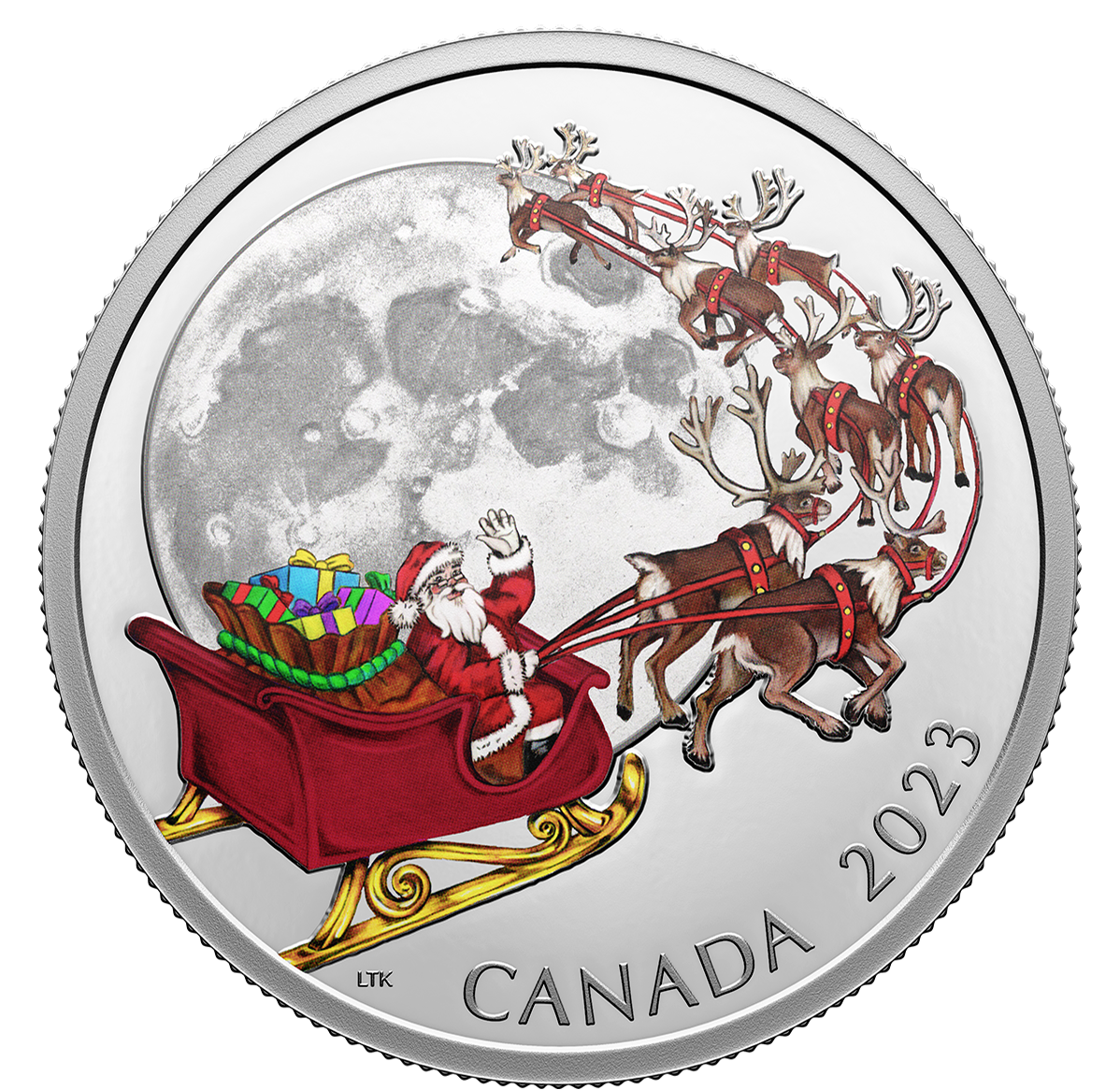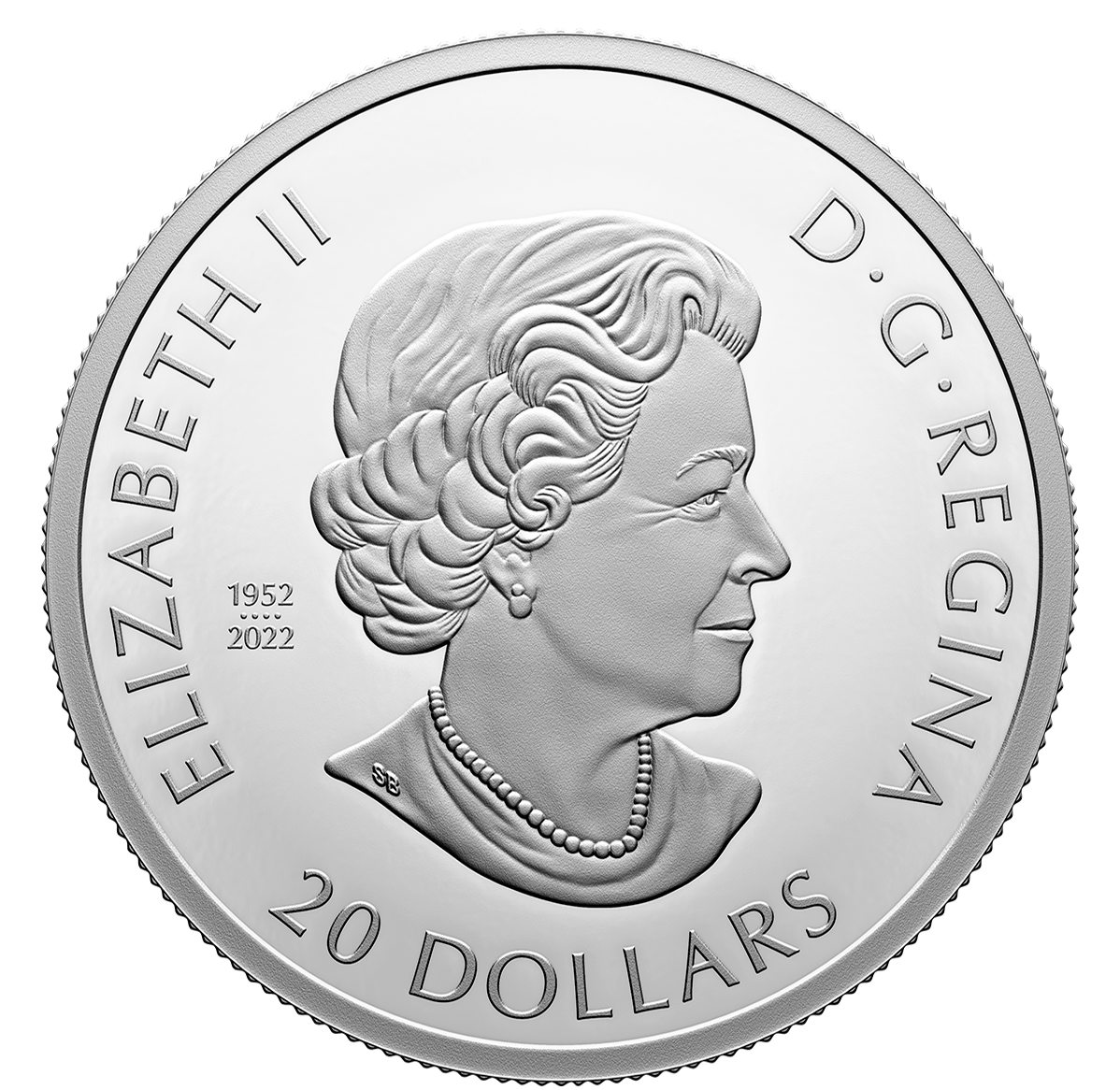 Your coin features a festive reverse design by artist Lisa Thomson-Khan, whose depiction of Santa Claus in his reindeer-led sleigh captures the thrill and the magic of the holiday season. When the design is viewed under black light, the nighttime scene is illuminated by the glow of the full moon, resulting in a backlit effect. The obverse features the effigy of Queen Elizabeth II by Susanna Blunt. The design also bears a special marking that includes four pearls symbolizing the four effigies that have graced Canadian coins throughout the reign of the Queen, as well as the double dates of her reign.
What do you want to know about this product?
Your product was successfully added to your collection.
The product could not be added