1 oz. Pure Silver Coin: First Strikes – The Majestic Polar Bear (Premium Bullion)
1 oz. Pure Silver Coin: First Strikes – The Majestic Polar Bear (Premium Bullion)
Status:

CAN & US shipping only
Availability:

Out of stock in stores
The intricate details of Canada's mighty polar bear shines bright in this new low mintage premium bullion coin in special packaging. Own one of the first Majestic Polar Bear coins struck.
Valued for their appeal and beauty, silver and gold coins represent an exciting collecting opportunity—especially those crafted with the world's purest precious metals.
The Majestic Polar Bear is the first in a new line of Premium Bullion coins in special packaging that are produced with a guaranteed weight and "four nines" (99.99%) purity, and issued in an easy-to-collect format. This uncirculated bullion coin is a beautiful keepsake that has been designed for collectors and precious metal buyers alike, but the First Strikes edition brings an added dimension of exclusivity: it was struck during the first day of production.
Packaged in a premium card holder, each Majestic Polar Bear includes two extraordinary features: a "paw print" privy mark and vivid radial lines, a new sunburst finish that adds amazing visual energy to an already inspiring portrait.
Make room in your collection for an Arctic icon.
One of the first.

The Royal Canadian Mint is recognized worldwide for its strict quality controls, and for producing coins of consistent weight and utmost purity, but

First Strikes

have the added distinction of being minted on the first day of production—they're the first of their kind!
Specially handled during the manufacturing proccess.

It's never been easier to own or collect precious metals. Each uncirculated Premium Bullion coin is produced with a guaranteed weight, specially handled during the manufacturing process and encapsulated into card packaging. While our bullion products are typically purchased from authorized dealers, this Premium Bullion offering is only available for purchase in this stylish card format and can be purchased directly from the Mint, Canada Post and dealers.
Easy to collect format.

Your 1 oz. pure silver coin features our exclusive MINTSHIELDTM

surface protection. It comes encapsulated and protected in a premium card holder, wrapped in a clear envelope with a tamper-evident seal. All the information including coin specifications are printed on the back of the card.
A limited collectible.

Only 5,000 pure silver

First Strikes

are available to collectors worldwide.
Also available in gold.

The Majestic Polar Bear

premium bullion coins, including

First Strikes, are available in silver (1 oz.) and gold (1/10 oz.) formats.
No GST/HST

(if applicable)
Packaging
Your pure silver Premium Bullion coin comes encapsulated and packaged in a premium card holder for easy storing and handling, and wrapped in a clear envelope with a tamper-evident seal for an added protection.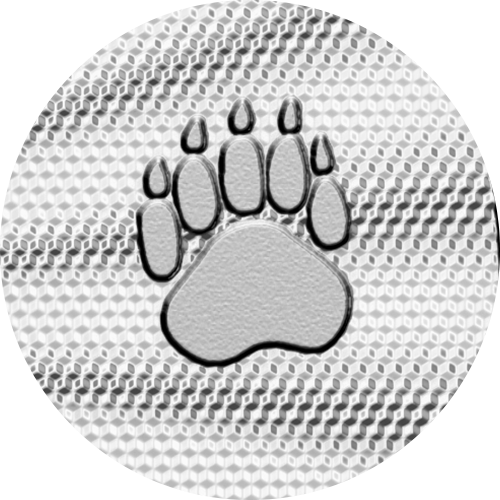 Special privy mark
Your coin's reverse includes a "paw print" privy mark that is unique to this line of collectable Premium Bullion coins.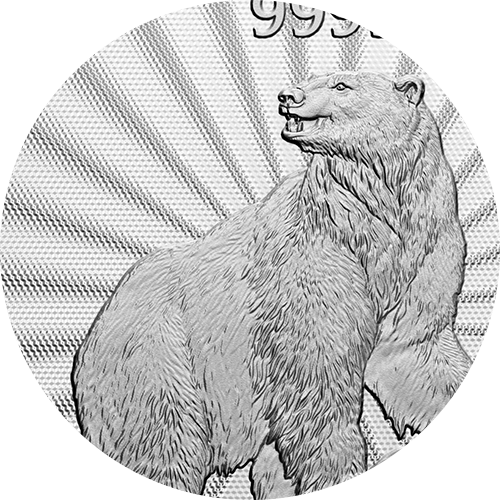 Vivid radial lines, a new sunburst finish
On both the reverse and obverse, vivid radial lines fill the field to create a dramatic sunburst finish that adds movement, energy and excitement to the engraved art.
Composition
99.99% pure silver
Finish
Bullion with sunburst finish (vivid radial lines)
Price is subject to change without notice. Represents minimum guaranteed weight. The Royal Canadian Mint reserves the right to refuse or limit orders, and to change its prices and product offerings without notice if, for any reason, it should be found necessary to do so. The Mint also reserves the right to impose purchase quantity limits on certain items. Once an order is placed, it cannot be cancelled. Premium Bullion Products in special packaging are final sale (they cannot be returned or exchanged, and are not eligible for refund for any reason). Exceptionally, in the event of a damaged, defective or incorrect product purchased through the Mint online (whether by mobile app or on mint.ca) or via the call centre, you may contact the Mint's Customer Service Solutions Centre within 14 calendar days after shipment to request an exchange for the same product originally purchased (subject to product availability), where the Mint will, at its discretion, evaluate exchange requests on a case-by-case basis.
No Masters Club points are earned on Bullion Products, Premium Bullion products in special packaging or any RCM product advertised and/or sold with a suggested retail price greater than $500,000 CAD before any applicable taxes. Masters Club terms and conditions are available here.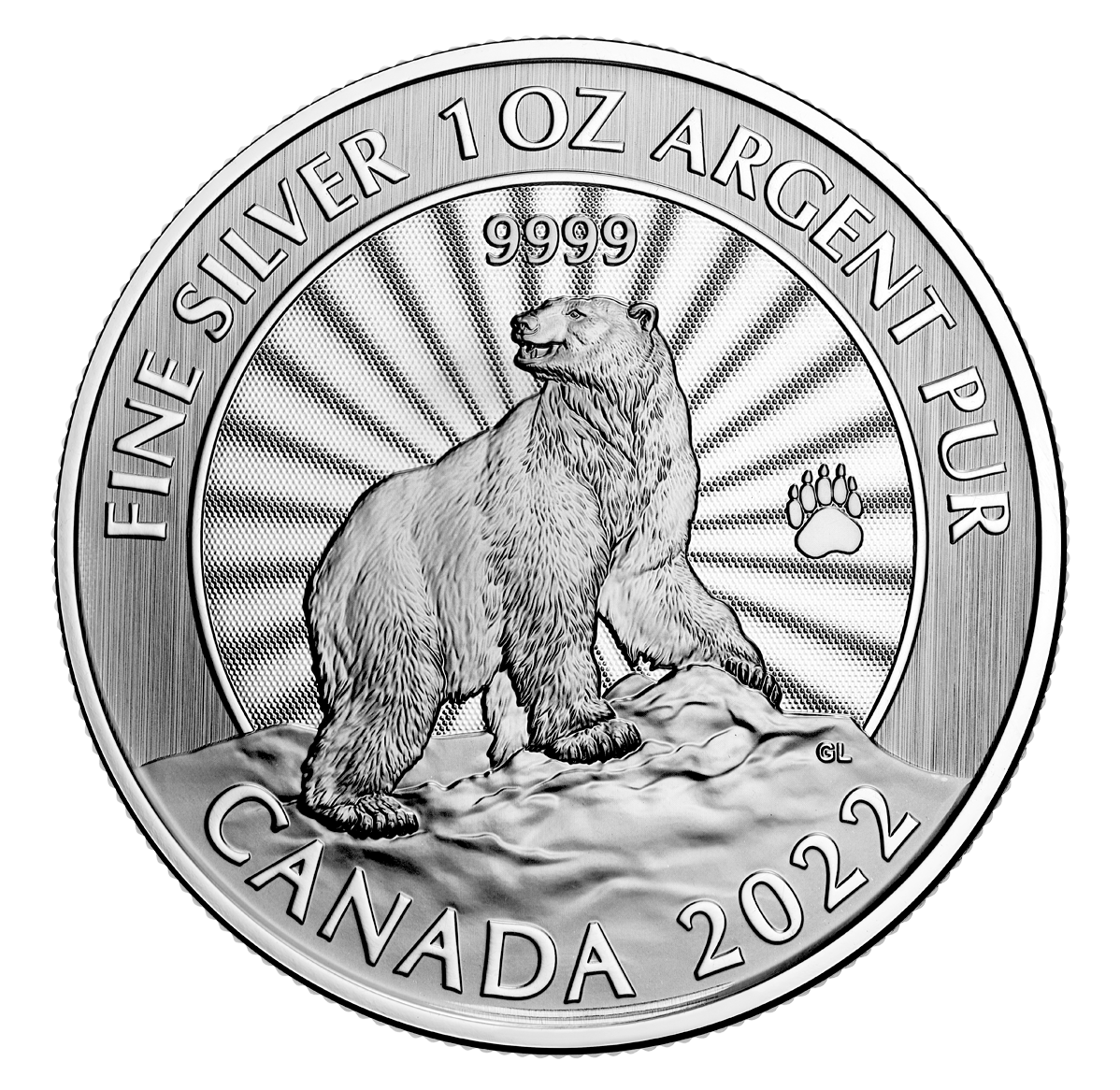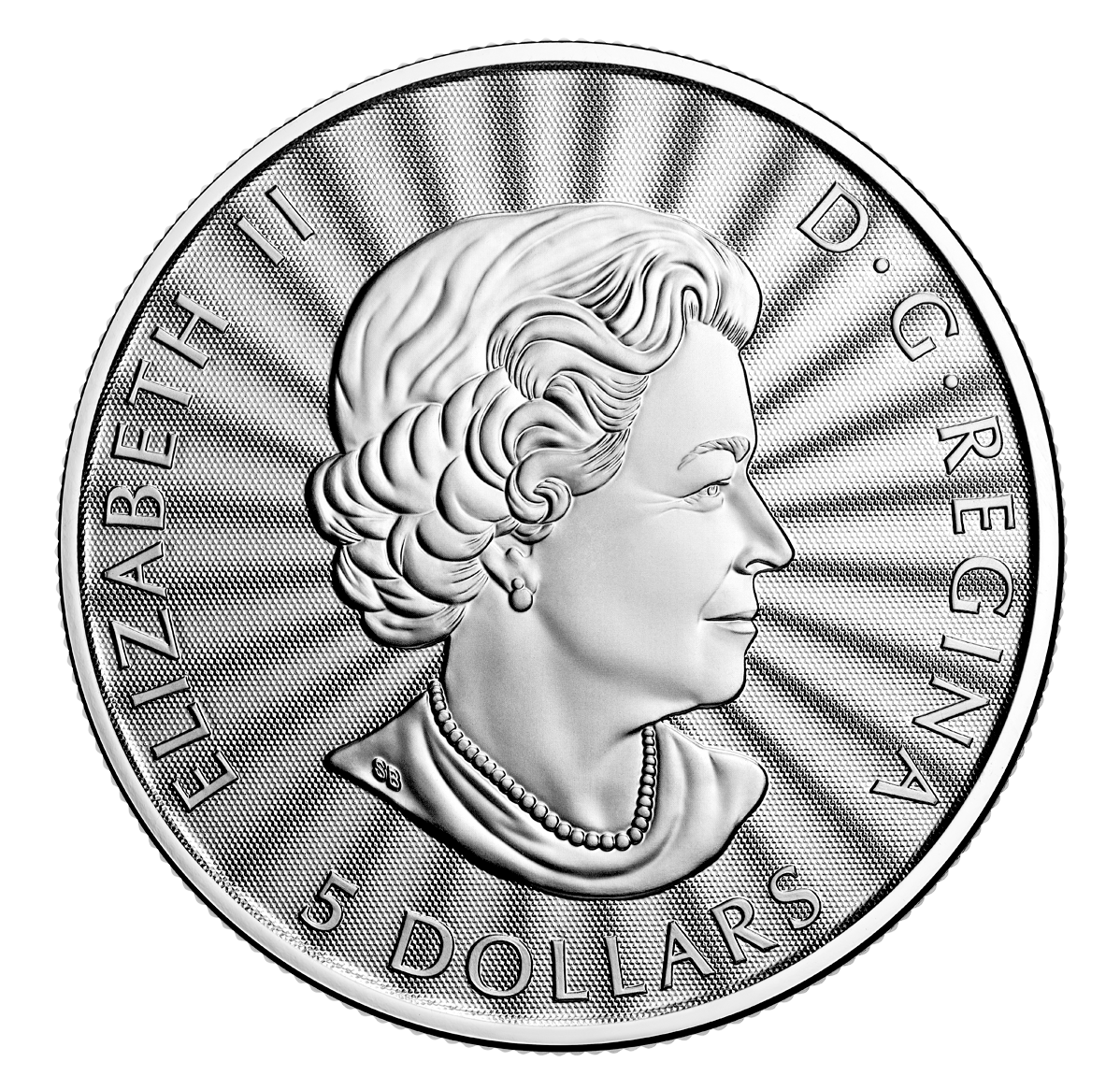 Each coin's reverse is based on a design by Canadian artist Glen Loates and features a full-body portrait of a polar bear (Ursus maritimus) in its natural Arctic environment. The polar bear has its head turned to the side while standing atop a small rise in an ice field; the scene is depicted against vivid radial lines to create a dramatic sunburst finish. The reverse includes a "paw print" privy mark, the coin's purity and weight, the word "CANADA" and the year "2022". The obverse features the effigy of Her Majesty Queen Elizabeth II by Susanna Blunt.
What do you want to know about this product?
Your product was successfully added to your collection.
The product could not be added