1 oz. 99.99% Pure Silver Coin - Treasured Silver Maple Leaf: Congratulations
1 oz. 99.99% Pure Silver Coin - Treasured Silver Maple Leaf: Congratulations
Status:

CAN & US shipping only
Introducing new Premium Bullion in special packaging: When life calls for something extraordinary, mark the moment with a gift of precious metals.
Silver and gold have captured the human imagination for millennia, and both of these precious metals are now available in a finely crafted, gift-ready format.
Issued directly by the Royal Canadian Mint, the Treasured Silver Maple Leaf is a new Premium Bullion offering that will help you mark special moments and milestones. Crafted in one troy ounce* (31.11 grams) of 99.99% pure silver, each uncirculated Silver Maple Leaf (SML) bullion coin features security features that make it the world's most secure silver bullion coin. Three gift-ready options have been specially designed for you, and there is something for every taste and occasion: choose from a Happy Birthday or Year of the Tiger theme, or Congratulations to celebrate births, weddings, graduations, retirements, anniversaries, and more.
It's never been easier to give or receive the gift of silver—you can even personalize your gift by writing a special message inside the card. Every piece delivers the quality, artistry and purity the world has come to expect from Canada's mint.
Premium Bullion from the Royal Canadian Mint. When life calls for something extraordinary.
An easy way to purchase silver. Minted in 1 oz. of 99.99% pure silver, this 2022-dated silver Premium Bullion coin from the Royal Canadian Mint represents the perfect fusion of world-class craftsmanship and artistry, and the pinnacle of precious metal purity.
Available directly from the Mint. While our bullion products are typically purchased from authorized dealers, this Premium Bullion offering marks a first: it is available encapsulated and presented in this special packaging directly from the Mint, Canada Post and dealers.
While quantities last. While there is no mintage, this gift-ready bullion offering is available while quantities last.
Also available in gold. Treasured Maple Leaf coins are also available in 24-karat (99.99% pure gold—choose from the Year of the Tiger and Congratulations editions).
No GST/HST
Packaging
Your treasured Silver Maple Leaf bullion coin is encapsulated and ready to gift! It comes elegantly presented in a premium card with a themed sleeve and envelope—there's even space to include a hand-written message that will turn your gift into a personalized keepsake.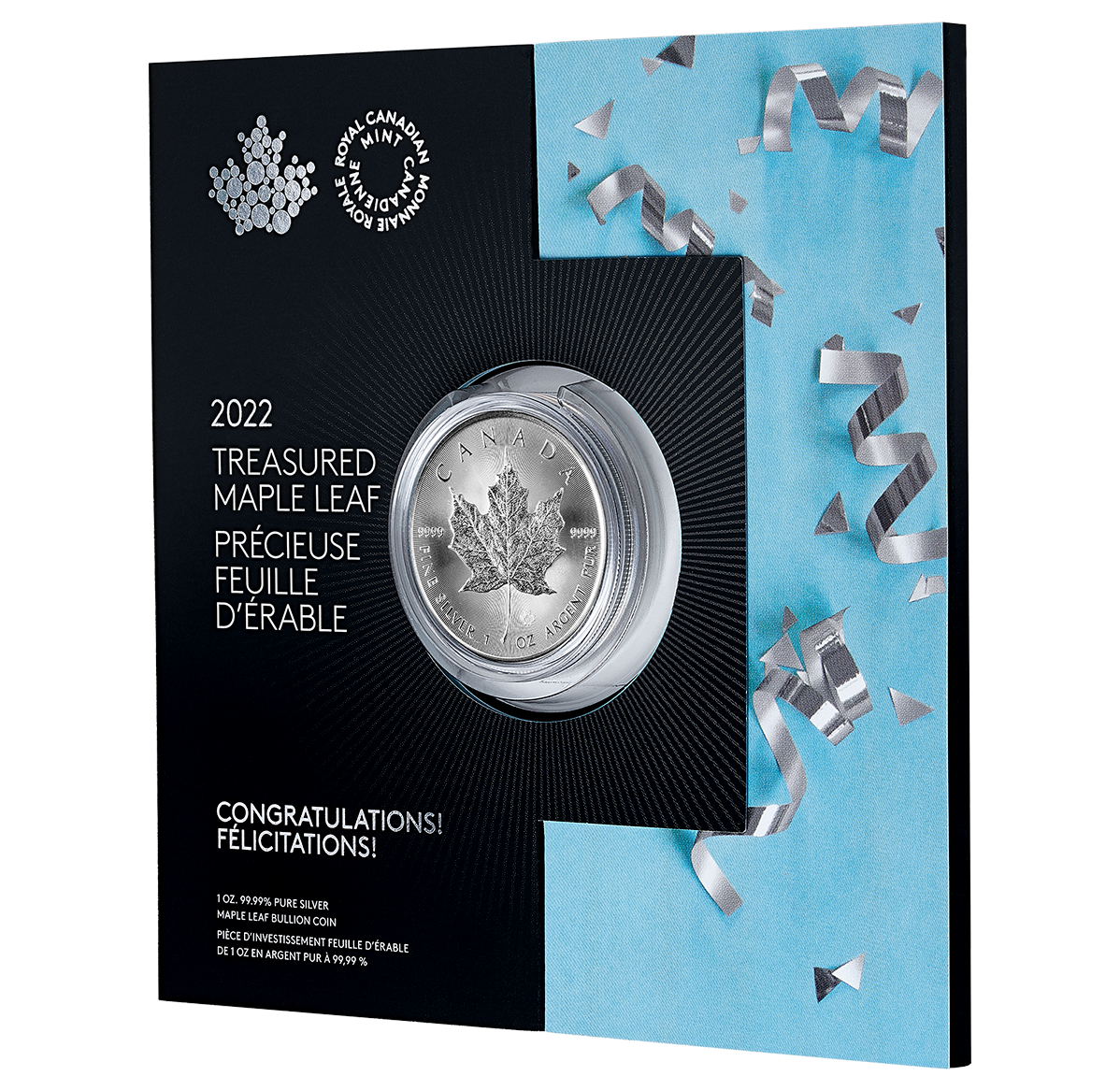 An RCM first: gift-ready bullion
It's never been easier to buy silver with the new Treasured Silver Maple Leaf coins. This uncirculated 1 oz. Silver Maple Leaf (SML) bullion coin comes in a ready-to-gift format designed to mark a special occasion—birthdays, births, graduations, weddings, anniversaries, the Year of the Tiger or any milestone. It's also a great addition to your collection!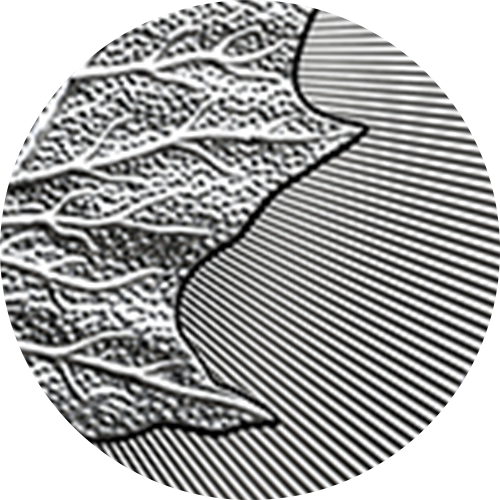 Includes cutting-edge security features
All SML bullion coins include cutting-edge security features, such as radial lines, a micro-engraved maple leaf, BULLION DNA™ Anti-Counterfeiting Technology and our exclusive MINTSHIELD™ surface protection—the world's first proven approach to reducing the occurrence of white spot discolorations on silver bullion coins.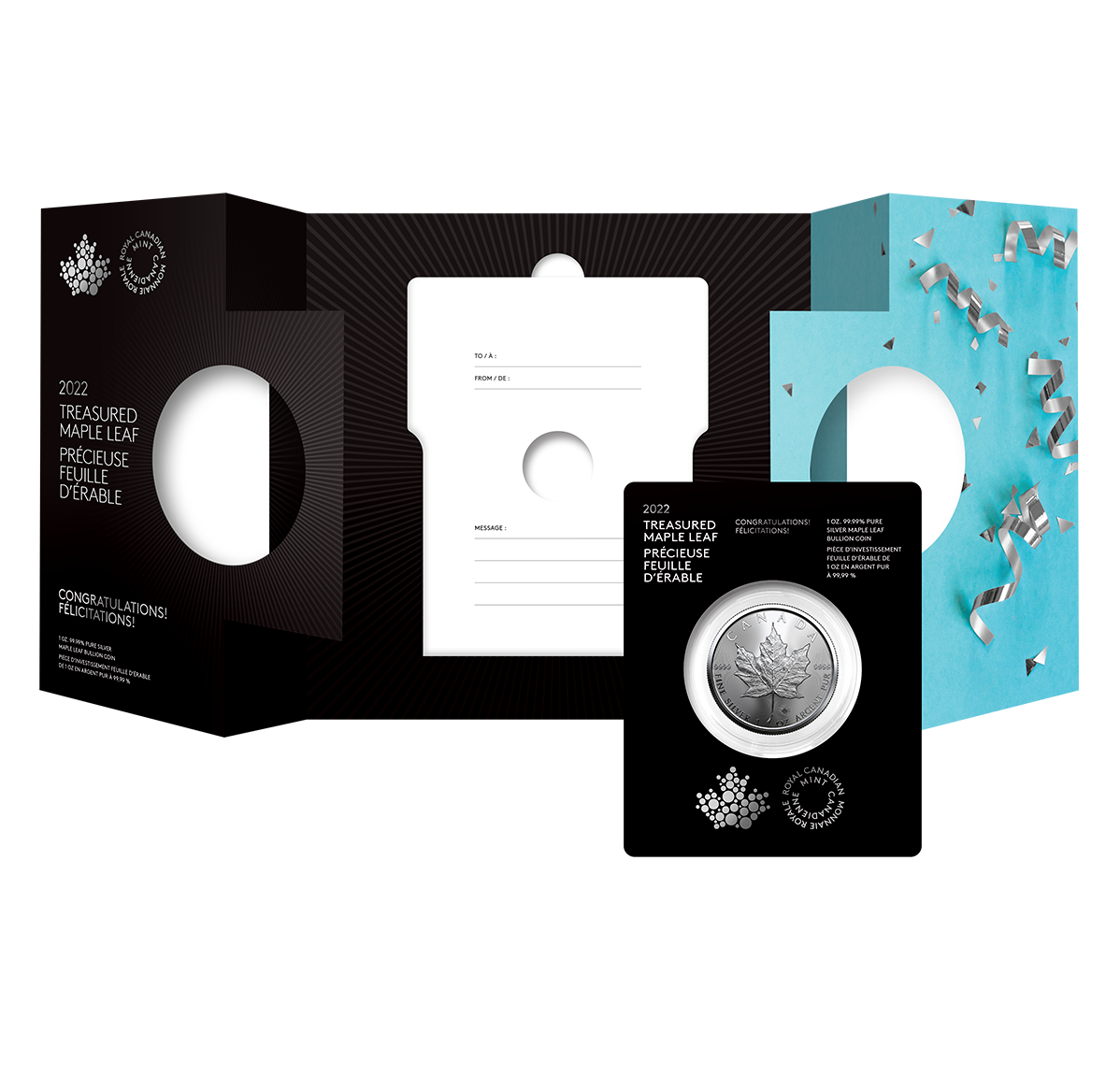 Personalize it
Each Treasured Silver Maple Leaf coin comes encapsulated and presented in gift card packaging, with a themed envelope for easy handling and storing. Make your gift more personal by adding a message to the card—it's a precious keepsake that will be treasured for years to come.
Composition
99.99% pure silver
Finish
Bullion with radial lines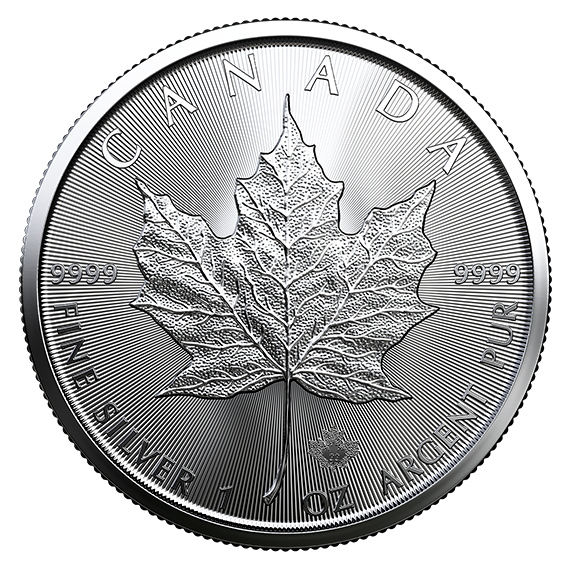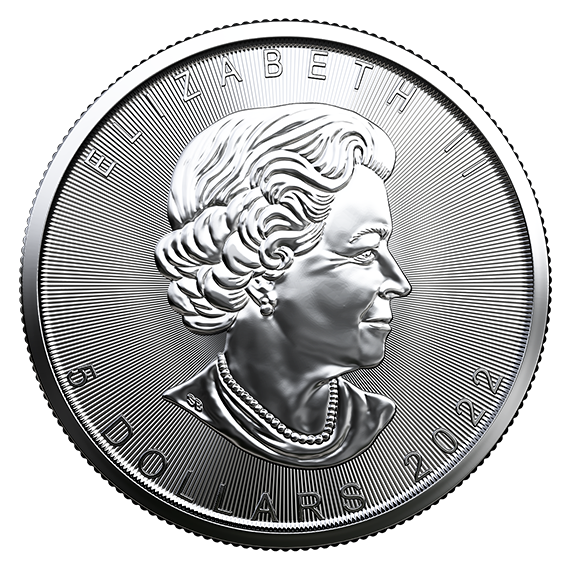 Terms of Sale
Price is subject to change without notice. *Represents minimum guaranteed weight. The Royal Canadian Mint reserves the right to refuse or limit orders, and to change its prices and product offerings without notice if, for any reason, it should be found necessary to do so. The Mint also reserves the right to impose purchase quantity limits on certain items. Once an order is placed, it cannot be cancelled. Premium Bullion Products in special packaging are final sale (they cannot be returned or exchanged, and are not eligible for refund for any reason). Exceptionally, in the event of a damaged, defective or incorrect product purchased through the Mint online (whether by mobile app or on mint.ca) or via the call centre, you may contact the Mint's Customer Service Solutions Centre within 14 calendar days after shipment to request an exchange for the same product originally purchased (subject to product availability), where the Mint will, at its discretion, evaluate exchange requests on a case-by-case basis.
No Masters Club points are earned on Bullion Products, Premium Bullion products in special packaging or any RCM product advertised and/or sold with a suggested retail price greater than $500,000 CAD before any applicable taxes. Masters Club terms and conditions are available here.
What do you want to know about this product?
Your product was successfully added to your collection.
The product could not be added