Proof Silver Dollar – 100th Anniversary of Bluenose
Proof Silver Dollar – 100th Anniversary of Bluenose
Masters Club:
700
Status:

CAN & US shipping only
Availability:

Out of stock in stores
From vision to legacy: Our Bluenose Centennial celebration begins with the 2021 Proof Dollar!
Born on a drafting table a century ago, the legacy of Bluenose was set in motion. The year 2021 marks the 100th anniversary of the launch of Bluenose, the Grand Banks fishing schooner whose racing feats and indomitable spirit earned it the title of "Queen of the North Atlantic."
The first port of call in our year-long celebration, the 2021 Pure Silver Proof Dollar turns back the clock to commemorate Canada's sailing ambassador, and the visionary naval architect behind its design. The Bluenose story begins here, born on a drafting table a century ago. And with the mixing of different frosting techniques (flat and traditional), your coin's engraved design simultaneously celebrates William J. Roué's vision and its fulfillment, with the birth of a racing champion.
Celebrate a beloved icon that outpaced its challengers and secured a permanent place in our hearts!
The story begins. Start at the beginning! This proof dollar represents the first chapter of a story that continues on multiple coins in 2021. It's part of a celebration of the Bluenose journey, from design to launch and throughout its racing years, as well as its enduring legacy.
Our flagship product. This year's pure silver proof dollar celebrates the 100th anniversary of Bluenose, the world-famous schooner whose racing success made it a beloved Canadian icon.
Pride of Lunenburg, N.S. Artist Yves Bérubé is based in Lunenburg, N.S., where Bluenose was proudly built and launched, and where it called home.
A historical treasure. This is the ship that captured a nation's heart and lifted its spirit! Bluenose is the pride of Nova Scotia and a Canadian icon. It has also been a big part of the Royal Canadian Mint's story since 1937, when it first appeared on our 10-cent circulation coin.
Limited mintage. The newest addition to your collection is crafted in 99.99% pure silver and has a limited mintage of 30,000.
Building a legacy: William J. Roué(1879-1970)
The story of Bluenose begins in 1920 with the creation of the International Fishermen's Trophy series, established to pit Nova Scotia's fishing schooners against the rival New England fleet, After an unexpected loss in the inaugural race, a group of Halifax businessmen set out to win back the trophy in 1921 by returning with a new, faster vessel. William James Roué was entrusted with the task of designing a vessel that could both earn its keep as a fishing schooner and bring the Trophy home. Born in Halifax and based in Dartmouth, N.S., Roué then worked at the family's soda manufacturing business pursuing his passion for naval architecture in his spare time. Largely self-taught, Bluenose was only his 17th design and first fishing schooner, and the one that first earned him international acclaim. Using a mathematical approach, Roué gave Bluenose the ability to carrya large amount of sail and a hull shape which would cut through the water with the least resistance, and they carried it to victory on the fishing banks and on the race course! Its success allowed Roué toturn his passion into a profession. In a career lasting more than a half-century Canada's first and most famous naval architect designed some 200 vessels, including an innovative sectional barge for Allied military use in the Second World War.
The Builders: Smith and Rhuland
Shipbuilding is one of Canada's oldest industries and a proud fixture of Atlantic Canada's seafaring traditions – especially in Lunenburg, Nova Scotia, home of Bluenose and a UNESCO World Heritage Site. The South Shore community was already a busy shipbuilding centre when Smith and Rhuland Shipyards opened in 1900. Known for its versatility and fine craftsmanship, the firm was awarded the contract for Bluenose in 1920. Its yards became a hub of activity and excitement as the finest shipwrights set to work using lumber from Nova Scotia, while local craftsmen stitched the sails and forged the hardware. In addition toBluenose, Smith and Rhuland Shipyards built, launched, repaired and restored hundreds of vessels – tugs, trawlers, freighters, yachts and Grand Banks schooners, and even a famous replica of HMS Bounty. Its facilities on the Lunenburg waterfront, including the Big Boat Shed came under new ownership in the mid 1970s, but the Smith and Rhuland name remains synonymous with "the pride of Lunenburg."
A blueprint for success:
The hull profile engraved on your coin's reverse paystribute to Roué's original design. Using the original hull profile blueprint we created a mirrorimage that aligns with the portrait of Bluenose under full sail.
'Bluenose' is an official mark adopted and used by the Nova Scotia Department of Communities, Culture and Heritage pursuant to the Trade-marks Act (Canada). It is used by the Royal Canadian Mint with the Department's permission.
William James Roué Signature © jeroué. Used with permission.
Blueprints of 1921 BLUENOSE © jeroué. Used with permission.
bluenose.novascotia.ca
wjroue.ca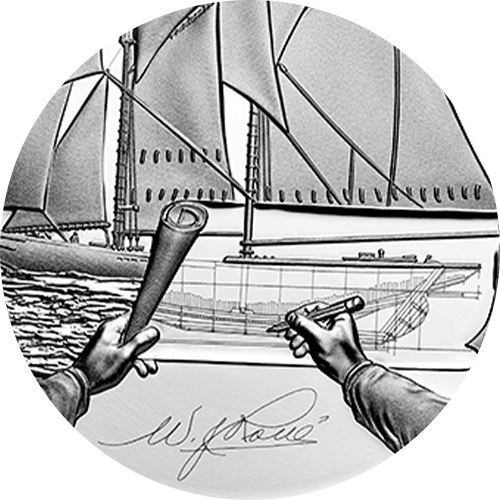 Mixed frosting
To strike a contrast between William J. Roué's vision and its fulfillment, the first-person perspective of the design process is flat frosted while the image of the Bluenose under full sail is traditionally engraved frosted. The result is a smooth transition from concept to launch.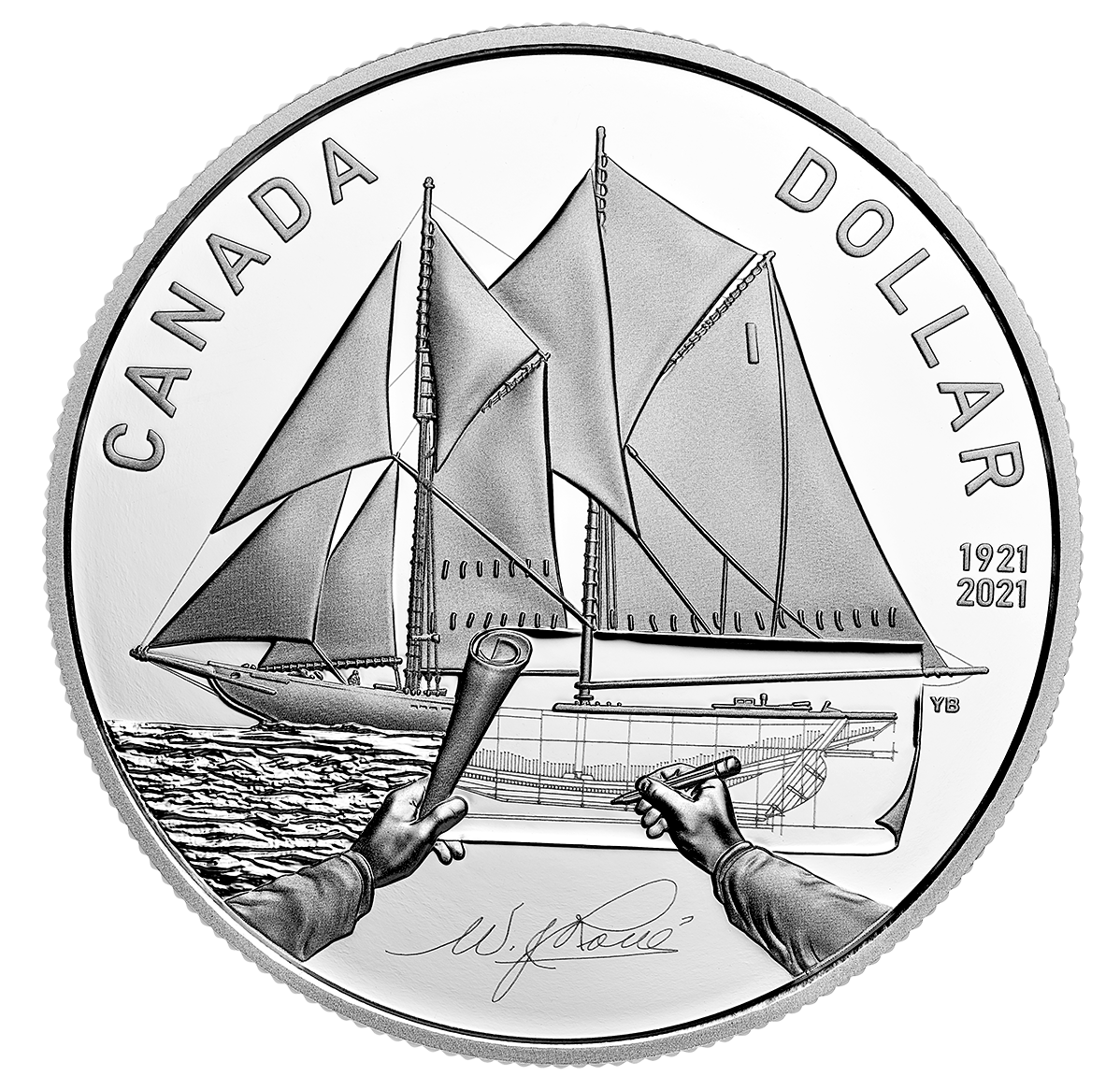 A tribute to a visionary
The design includes two personal touches: the signature of naval architect William J. Roué, as it appears on Roué's hand-drawn sail plan of Bluenose.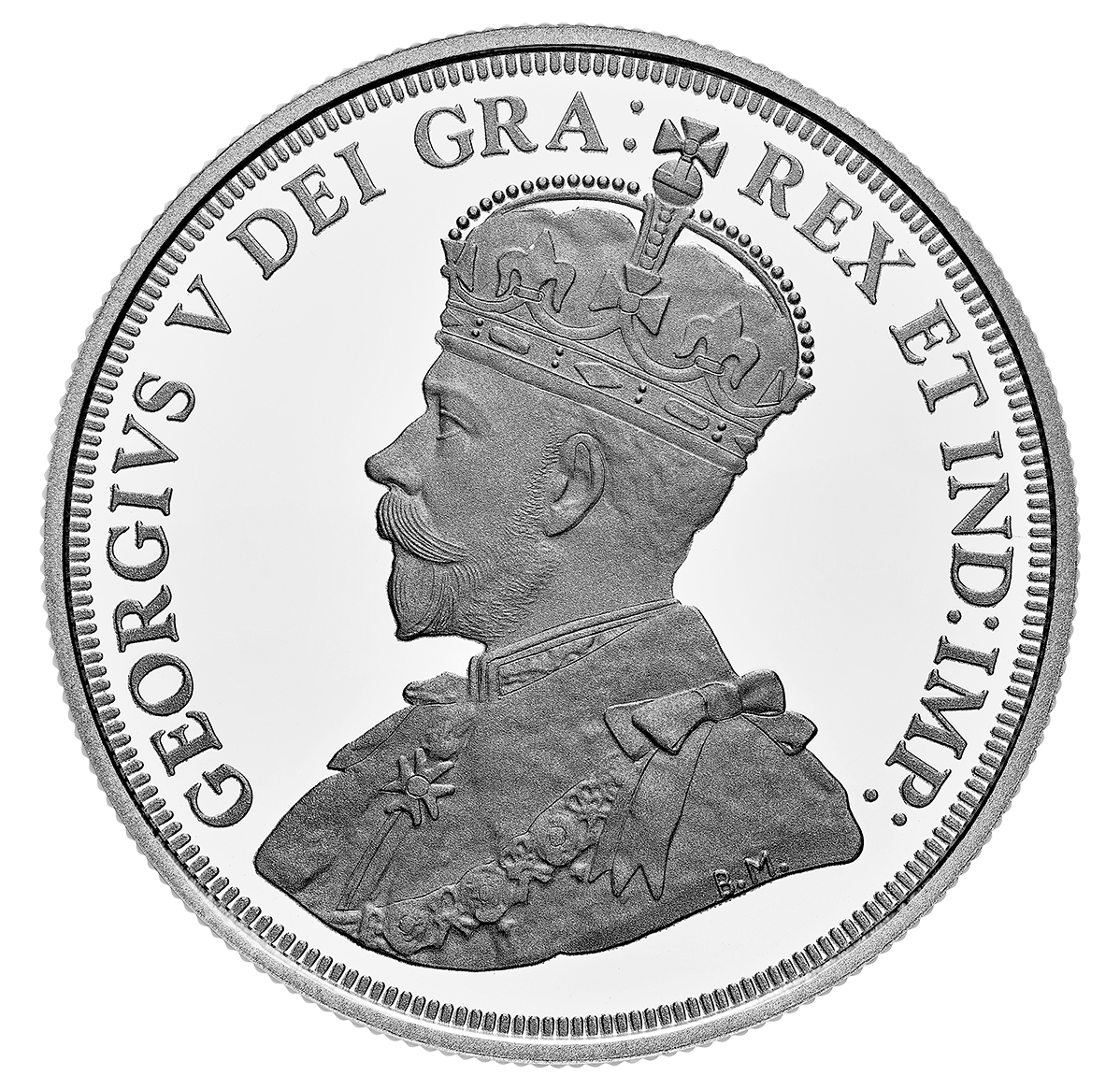 1921 obverse
Your proof dollar features the historic effigy of George V. This is the obverse that appeared on Canadian coins in 1921, at the time of the launch.
Composition
99.99% pure silver
Artist
Yves Berube (reverse), Sir E. B. MacKennal (obverse)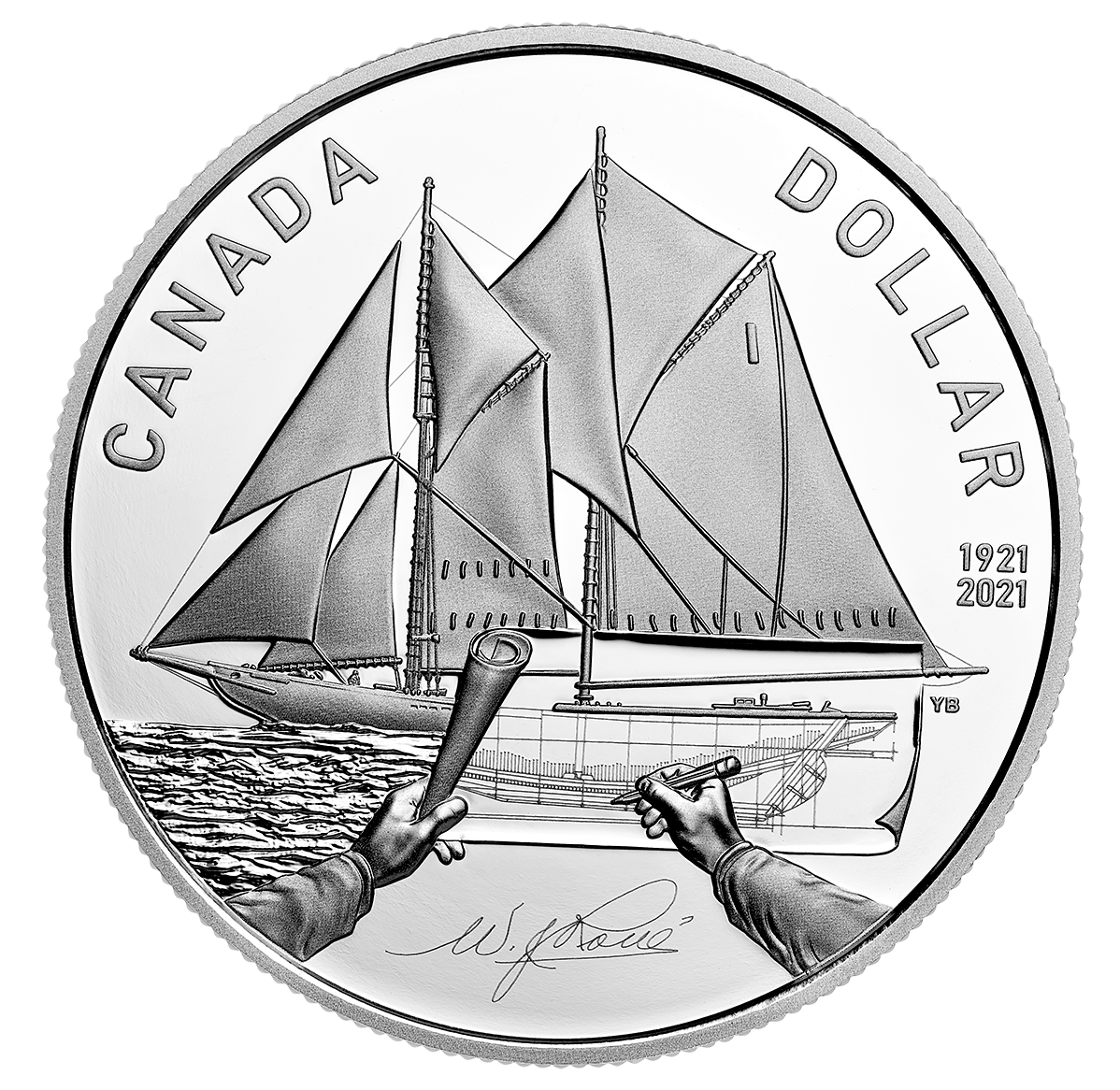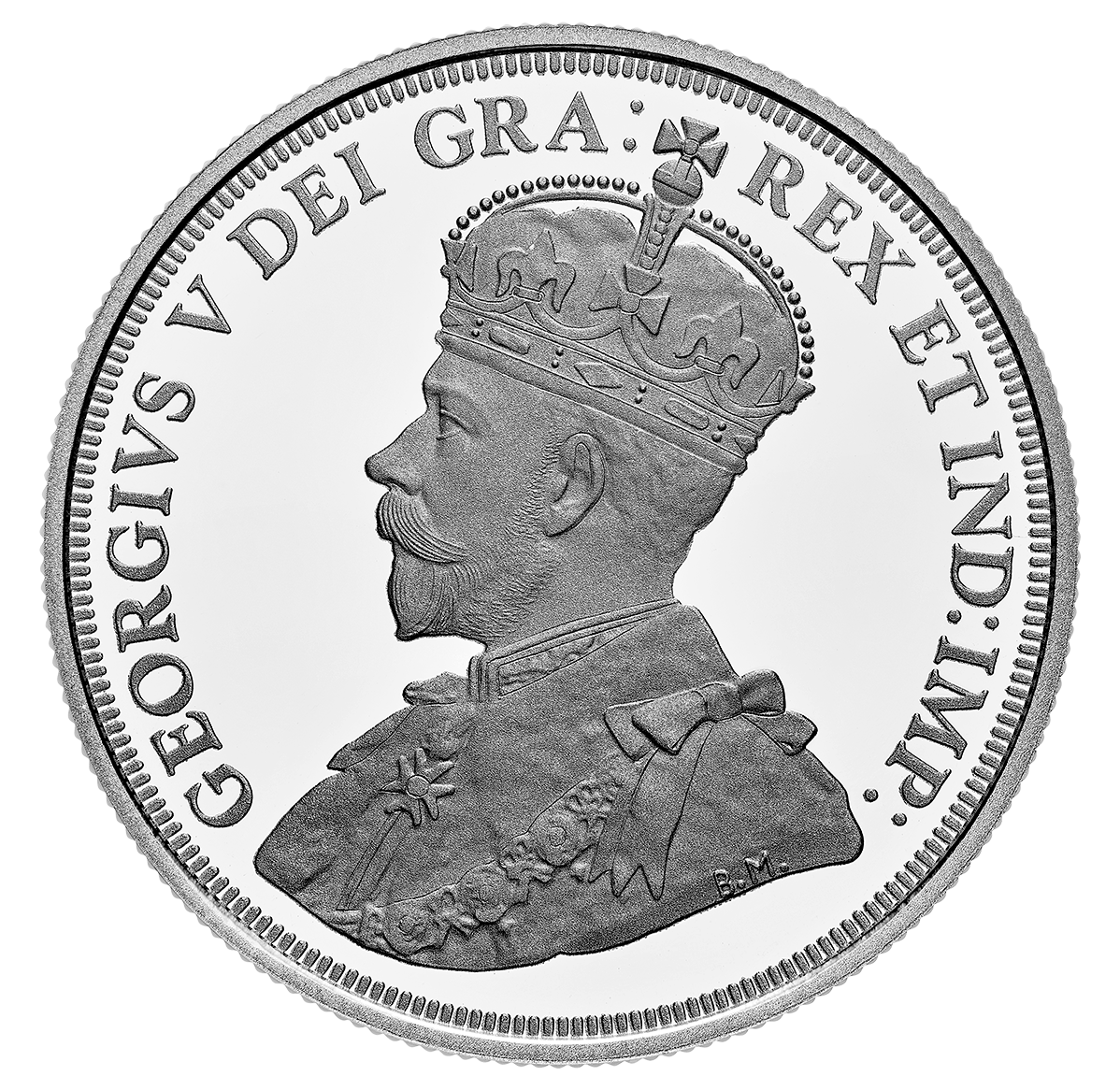 Designed by Canadian marine artist Yves Bérubé, your coin's reverse travels back in time to see naval architect William James Roué (1879-1970) completing his design for the legendary Bluenose schooner. The first-person perspective is flat frosted to distinguish between Roué's vision and the inspiring sight of Bluenose under full sail. As an added tribute, W.J. Roué's signature is included as it appeared on the original Bluenose sail plan. The obverse features the effigy of King George V by Sir E.B. MacKennal. Learn more about Canada's best-known naval architect and designer of our national icon.
What do you want to know about this product?
Your product was successfully added to your collection.
The product could not be added