1/20 oz. Pure Gold Coin – Everlasting Maple Leaf
1/20 oz. Pure Gold Coin – Everlasting Maple Leaf
Masters Club:
2,900
Status:

CAN & US shipping only
Shipping:

Expected to be shipped on Oct 11
Whether you're starting or growing a collection, this 1/20 oz. coin puts 99.99% pure gold within reach.
While a maple's spring colour display is sweet and subtle, the sight of its mighty summer leaves basking in the sun brings renewed appreciation for this arboreal emblem, which has come to symbolize the collective strength of Canadians. Enshrined on the reverse of this 1/20 oz. 99.99% pure gold coin, the everlasting beauty of these maple leaves will make any Canadian swell with pride, their many intricate details even more impressive for being rendered on such a small (14 mm) canvas.
One of our most affordable pure gold coins in 2023.
Special features
Back for a second year. The follow-up to the first Everlasting Maple Leaf issued in 2022, this 1/20 oz. 99.99% pure gold coin features a flowing arrangement of sugar maple leaves. It serves as an expression of both national pride and a love of nature!
Reverse proof finish. Your coin features a reverse proof finish, with a frosted field that contrasts beautifully with the engraved relief's mirror-like shine.
Specially sized to put gold within reach. This is one of the few 1/20 oz. collector coins minted by the Royal Canadian Mint as a stand-alone collectible—the size is usually reserved for bullion products and fractional sets.
Affordable addition to any collection. Created for art lovers and value-minded collectors alike, the 1/20 oz. size makes this an affordable option for diversifying and/or growing your collection. It is one of our most affordable 99.99% pure gold offerings in 2023.
Low mintage. Only 3,000 coins are available to collectors worldwide.
Includes serialized certificate. The Royal Canadian Mint certifies all of its collector coins.
No GST/HST.
Packaging
Your coin is encapsulated and presented in a black Royal Canadian Mint-branded clamshell with a black beauty box.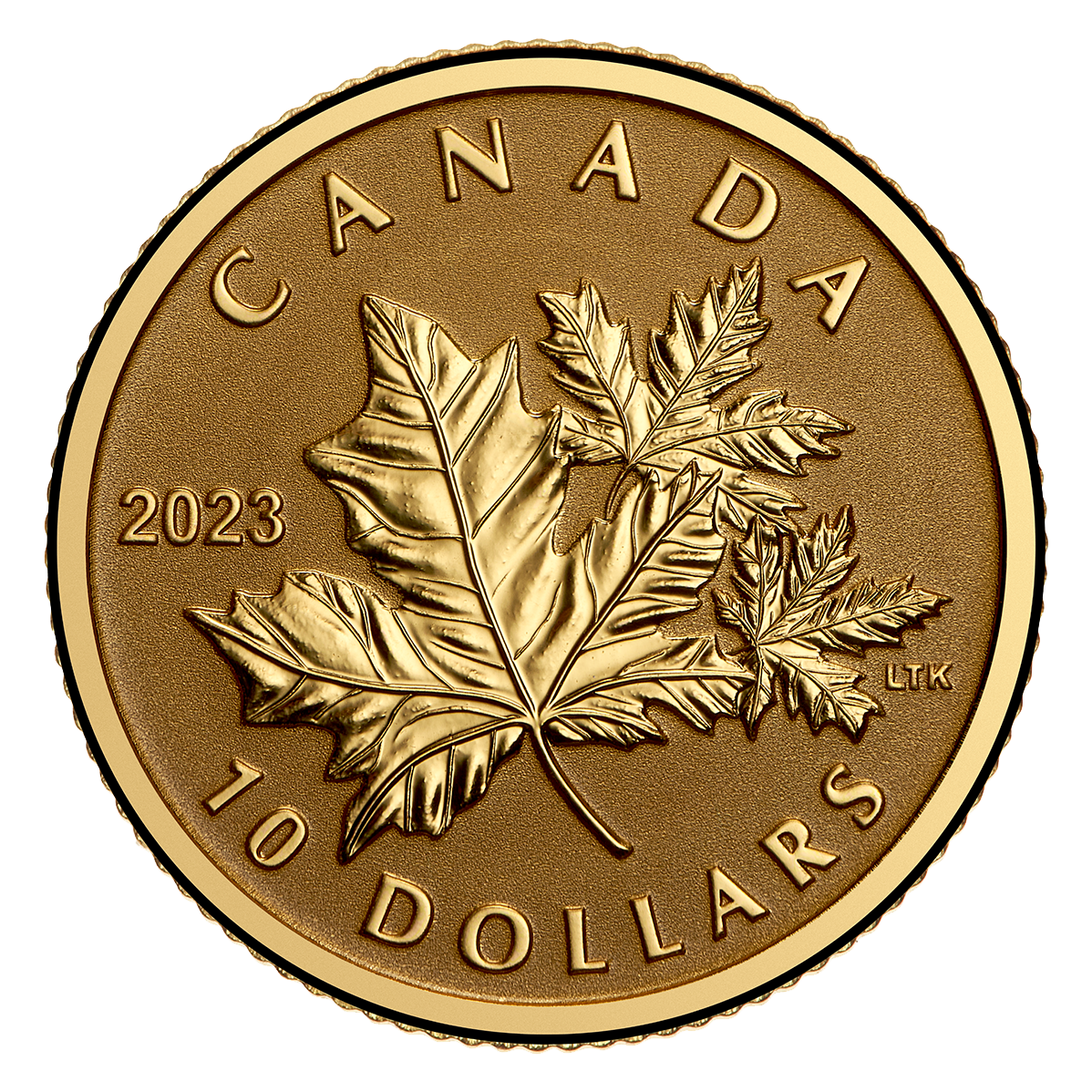 Endearing and everlasting
The 14 mm diameter means your coin is smaller than a 10-cent circulation piece, but beauty is in the details—and your coin's reverse features an impressive number of tiny details that bring these leaves to life.
Composition
99.99% pure gold
Packaging
Black clamshell with black beauty box
Artist
Lisa Thomson-Khan (reverse), Susanna Blunt (obverse)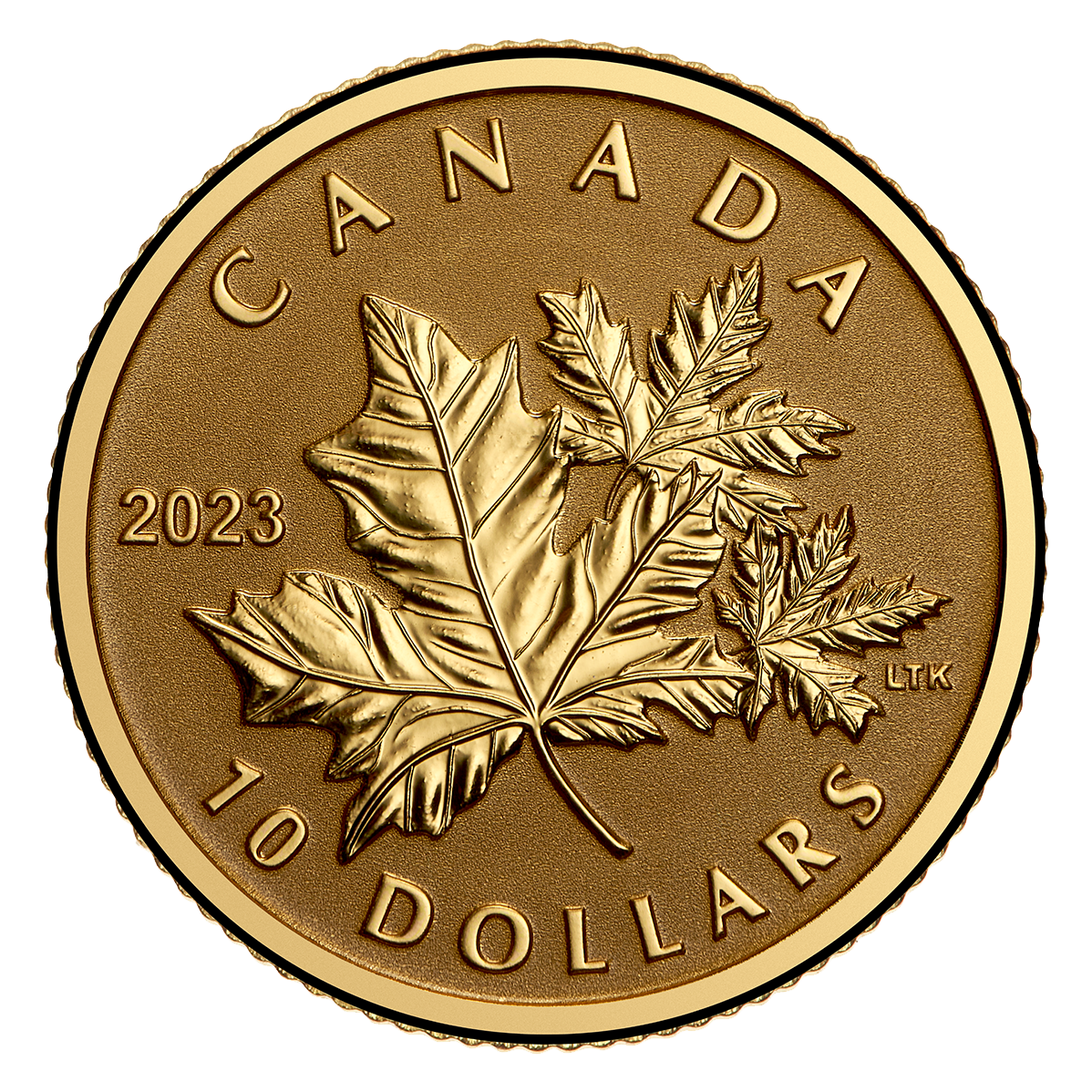 Designed by artist Lisa Thomson-Khan, your coin's reverse features a flowing arrangement of sugar maple (Acer saccharum) leaves that embody Canadian pride. The obverse features the effigy of Queen Elizabeth II by Susanna Blunt. The obverse also bears a special marking that includes four pearls symbolizing the four effigies that have graced Canadian coins and the double date of her reign.
What do you want to know about this product?
Your product was successfully added to your collection.
The product could not be added