$300 Pure Platinum Coin – Maple Leaf Forever
$300 Pure Platinum Coin – Maple Leaf Forever
$2,293.65 USD
Pay up to 6 monthlyinstallments of $382.28 USD.
Masters Club:
31,000
Status:

CAN & US shipping only
Availability:

Out of stock in stores
A maple anniversary bouquet in celebration of the Platinum Maple Leaf's 35 years.
One of the world's most coveted platinum offerings, Canada's Platinum Maple Leaf (PtML) bullion coin turns 35 this year (2023) and this exquisite maple bouquet is our way of marking the happy occasion. On your coin's reverse, four sugar maple leaves—the same maple species so elegantly featured on every Platinum Maple Leaf issued since 1988—form an eye-pleasing, symmetrical arrangement that is further enhanced with touches of yellow gold. The double dates "1988-2023" commemorate the anniversary of the coin's big debut, as does Arnold Machin's historic effigy, which looks resplendent in 99.95% platinum.
A platinum-themed pairing: the 1988 effigy and an anniversary bouquet.
Special features
An anniversary arrangement. Crafted in 99.95% pure platinum, the 2023 edition of our annual platinum maple celebration commemorates the 35ᵗʰ anniversary of the first 1 oz. Platinum Maple Leaf bullion coin issued in 1988.
Reverse proof finish. Thanks to the coin's reverse proof finish (frosted field, brilliant relief), the focus is entirely on your coin's maple bouquet.
Rare and prestigious. Previous Maple Leaf Forever coins sold out quickly, and for 2023, the mintage is limited to just 375 coins available to collectors worldwide.
Includes serialized certificate. The Royal Canadian Mint certifies all of its collector coins.
No GST/HST.
Packaging
Your coin is encapsulated and presented in a black Royal Canadian Mint-branded clamshell with a black beauty box.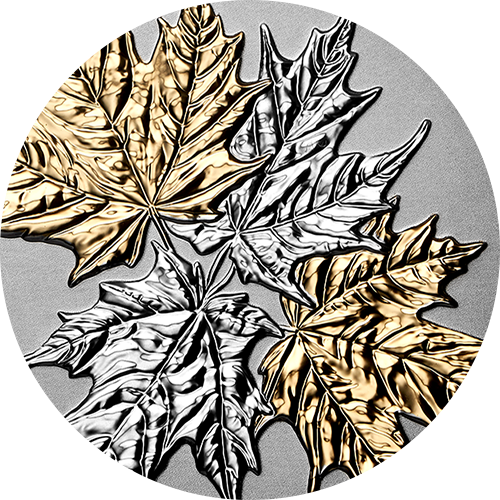 Platinum and gold
Your coin features a sophisticated bouquet of maple leaves. All four leaves have been polished to a high shine and two opposing leaves have been plated with yellow gold for a luxurious colour contrast, resulting in a visually stunning composition that immediately catches the eye.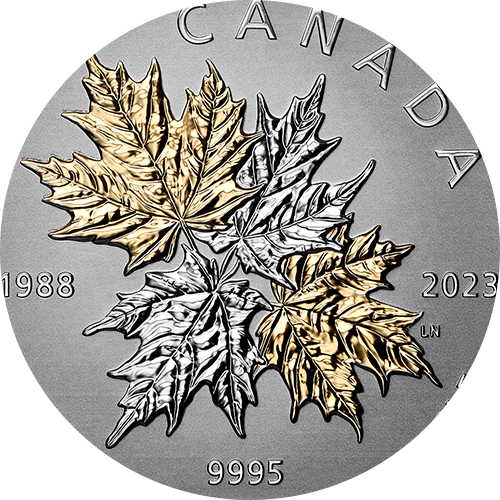 Double dated
The 35ᵗʰ anniversary of the Platinum Maple Leaf is indicated by the double dates "1988-2023".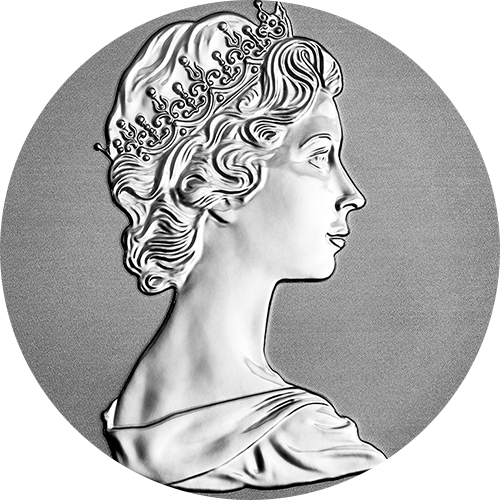 History effigy
Your coin's obverse features the effigy designed by Arnold Machin. This is the effigy that appeared on the very first Platinum Maple Leaf issued in 1988.
Composition
99.95% pure platinum with selective yellow gold plating
Packaging
Red lacquered wood case with black beauty box
Artist
Luc Normandin (reverse), Arnold Machin (obverse)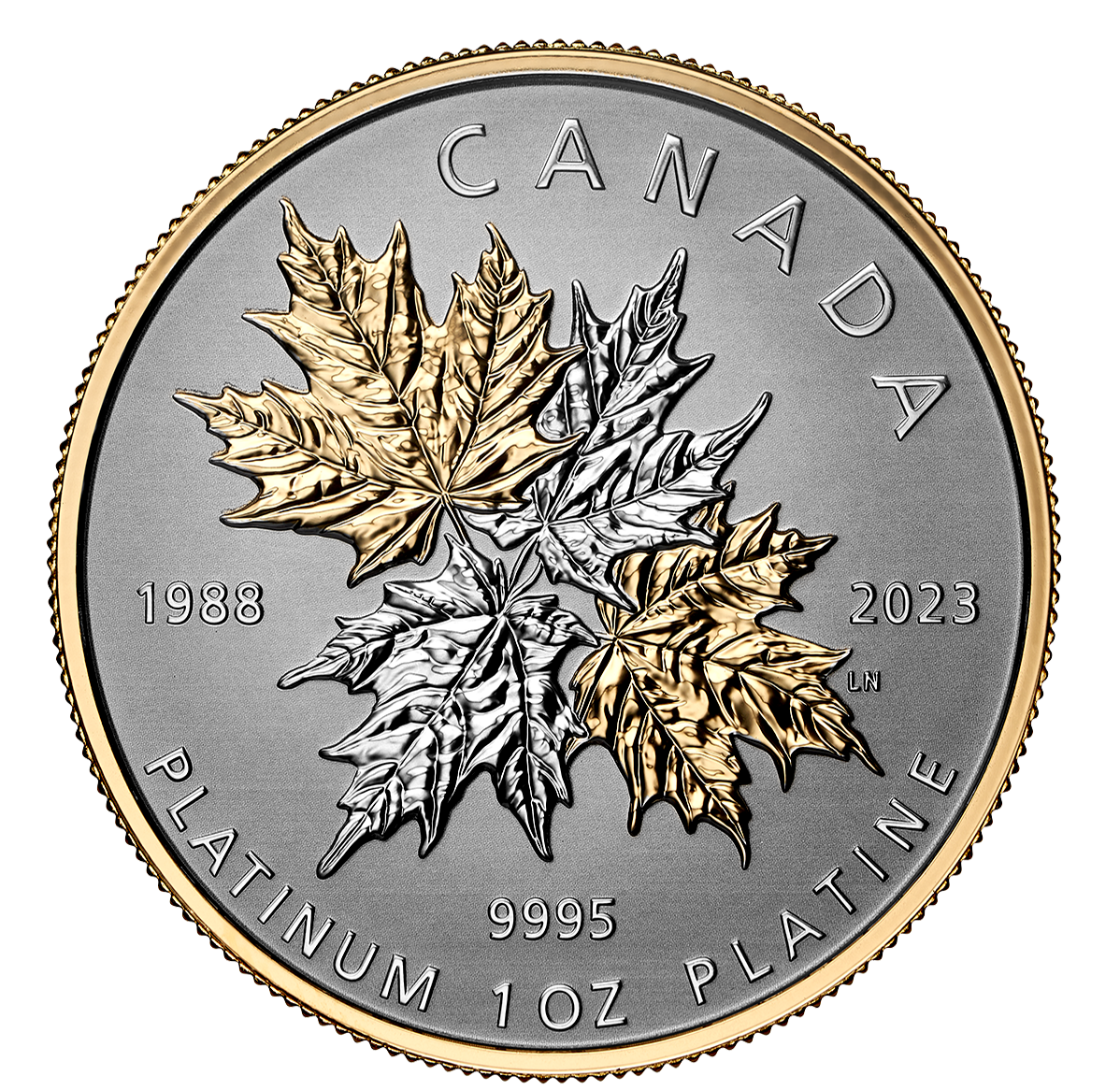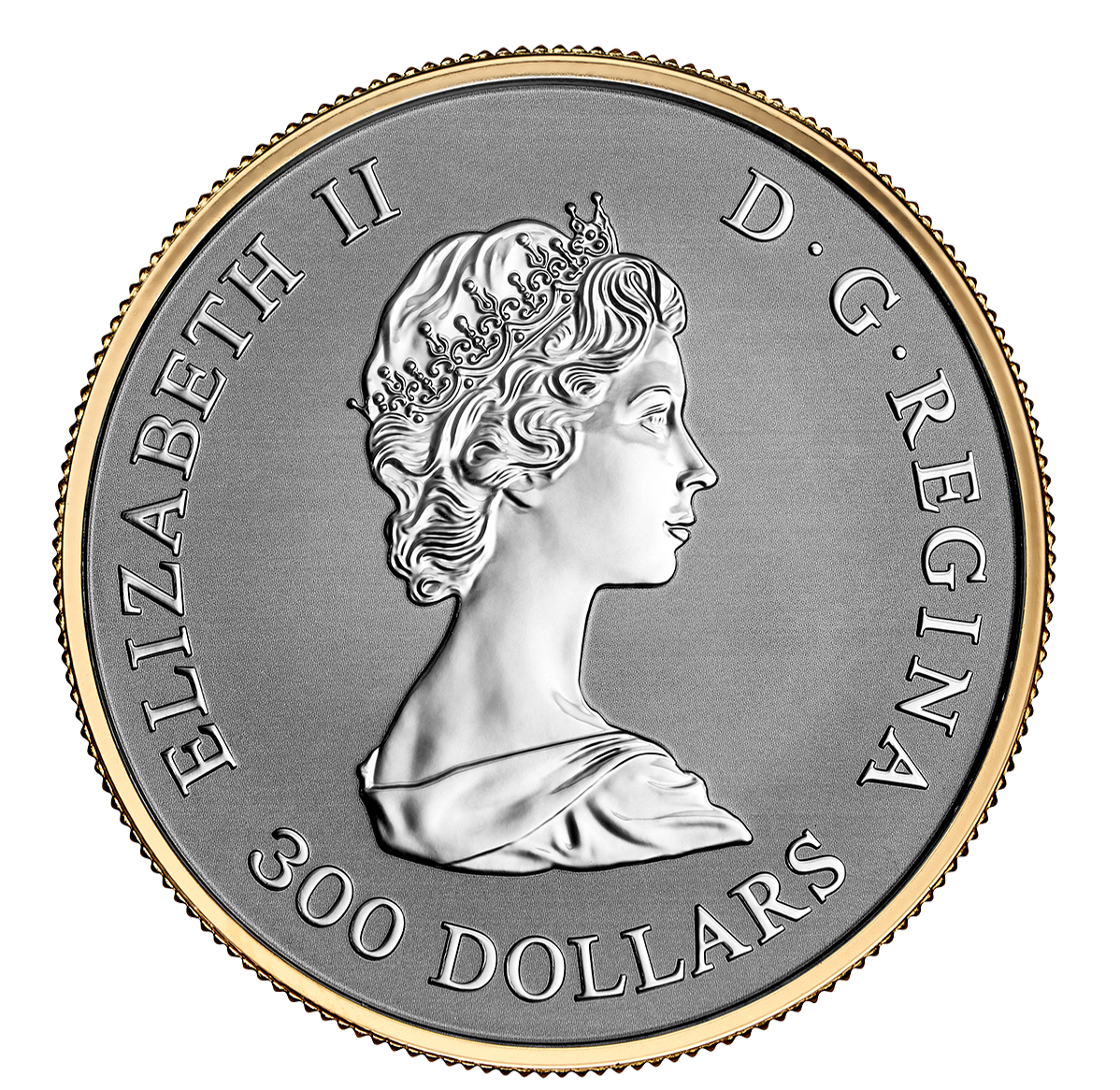 The reverse design by artist Luc Normandin features an elegant bouquet composed of sugar maple (Acer saccharum) leaves. Yellow gold plating on the rim and on two of the four leaves creates a striking colour contrast, while the dates "1988-2023" commemorate the 35ᵗʰ anniversary of the first Platinum Maple Leaf bullion coin. The rim is also gold-plated on the obverse, which, like the first coin issued in 1988, features the effigy of Queen Elizabeth II by Arnold Machin.
What do you want to know about this product?
Your product was successfully added to your collection.
The product could not be added