2022 $1 Celebrating Oscar Peterson Colourized Special Wrap Roll
2022 $1 Celebrating Oscar Peterson Colourized Special Wrap Roll
Masters Club:
550
Status:

CAN & US shipping only
A joyous purple adds a more personal touch to our celebration of Oscar Peterson. Order today to add to your collection!
The 2022 Celebrating Oscar Peterson commemorative one-dollar coin reflects the pride Canadians feel for the legendary pianist whose love of music was evident in every performance. That sense of joy, and the powerful emotions conveyed through his music, are represented by a purple background on all 25 coins in each Colourized Special Wrap Roll. Neatly rolled up in a sleek paper wrap, these colourful coins form a lasting tribute to Oscar Peterson (1925-2007) and his music.
One roll gives you 25 colour-enhanced $1 coins.
Special Features
Canada celebrates Oscar Peterson! Piano virtuoso. Jazz legend. Composer, educator and advocate. Celebrate the extraordinary life, work and legacy of Canada's Oscar Peterson (1925-2007) and his exceptional contributions to Canadian music and culture, as well as his reputation as one of the world's most respected and influential jazz artists of all time.
A neatly wrapped addition! Each Colourized Special Wrap Roll contains 25 Celebrating Oscar Peterson $1 coins enhanced with selective colour. Your coins come wrapped together in a custom paper wrap that complements the coin design.
Symbolic colour! Features Oscar Peterson's favourite colour: purple. The colourful accent infuses our tribute with a little of his personality, and conveys the joy and love of music that were evident in every performance.
Uncirculated coins! None of these coins have been circulated—they all have a newly minted quality.
Lower mintage than 2021! Only 15,000 rolls are available.
Only available for individual sale! All 25 coins in these Special Wrap Rolls are colour-enhanced versions of the commemorative one-dollar coin. For a roll of non-colour $1 coins, see our Special Wrap Roll Set or 2022 Special Wrap Roll Commemorative Collection.

Composition
Three-ply brass plated steel with selective colour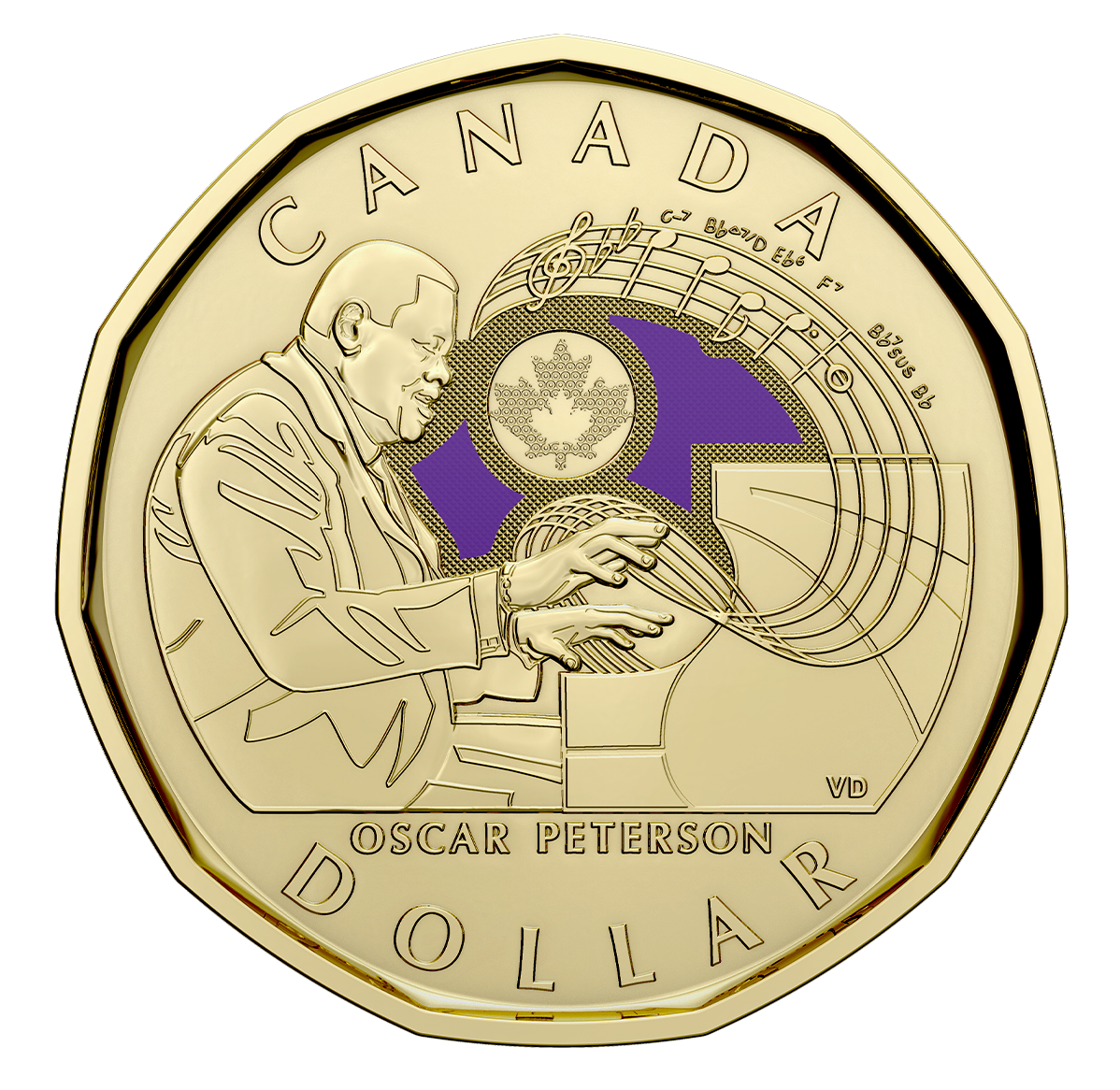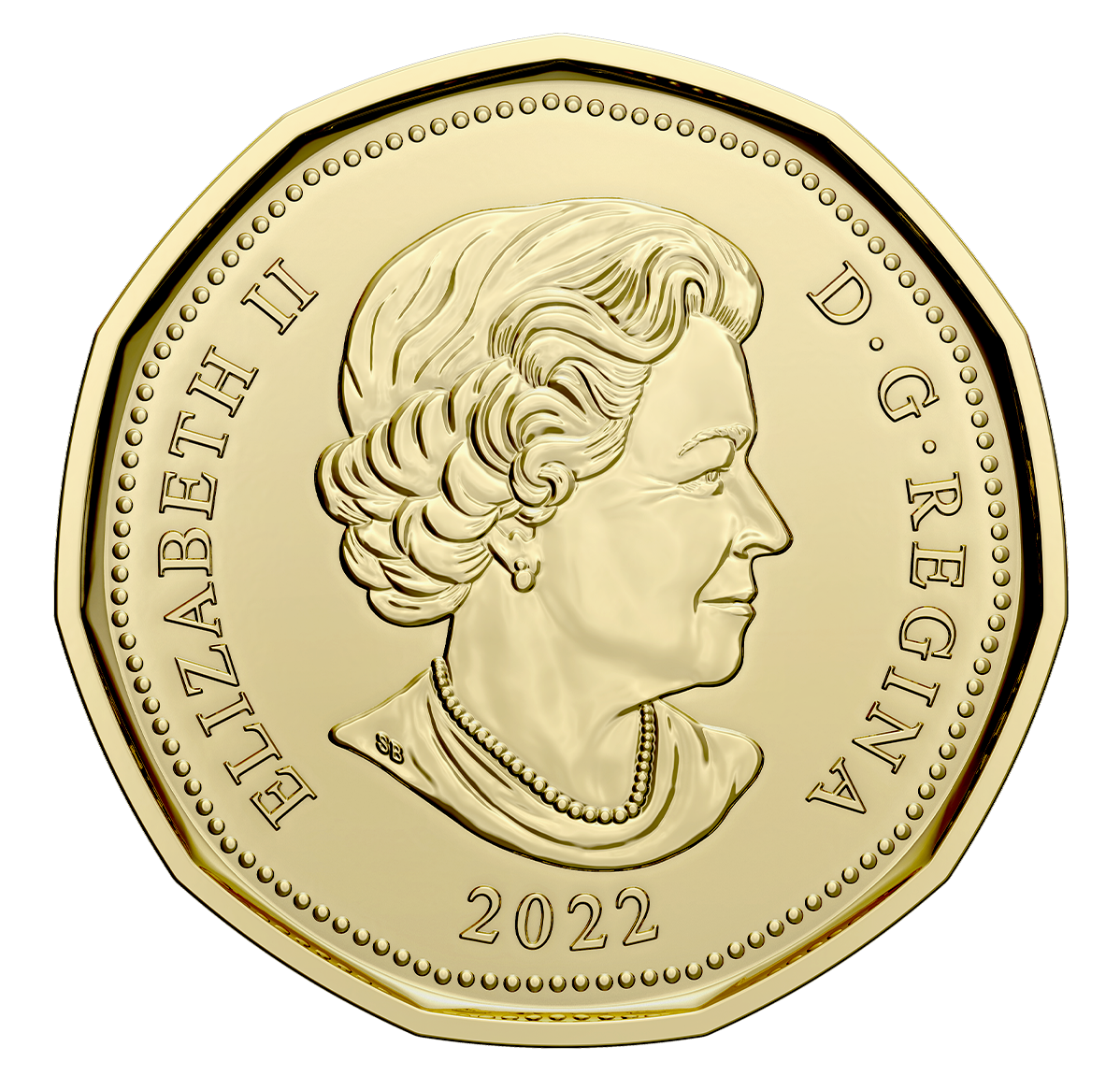 The Design Behind The Oscar Peterson Special Wrap Roll
Designed by Canadian artist Valentine De Landro, the reverse celebrates the life and legacy of Oscar Peterson (1925-2007), one of the greatest pianists of all time. It features a depiction of the musician seated at his piano, playing his powerful civil rights anthem Hymn to Freedom, while musical notes and chord symbols from that piece also appear in the design. On the $1 coin with selective colour, Peterson's favourite colour (purple) conveys the joy and love of music that were evident every time he played. The obverse features the effigy of Her Majesty Queen Elizabeth II by Susanna Blunt.
"Hymn To Freedom" written by Oscar Peterson – Tomi Music Company (SOCAN)/ Sony Music Publishing Canada (SOCAN)
All rights reserved. Used by permission.
What do you want to know about this product?
Your product was successfully added to your collection.
The product could not be added