Proof Silver Dollar – Alexander Graham Bell: Great Inventor
Proof Silver Dollar – Alexander Graham Bell: Great Inventor
Masters Club:
700
Status:

CAN & US shipping only
Solving problems, one innovation at a time: The 2022 Proof Dollar celebrates Alexander Graham Bell's spirit of innovation.
A dedication to understanding the world around him and an ability to envision a brighter future were the driving forces of Alexander Graham Bell's (1847-1922) life. In honour of the 175th anniversary of his birth, the 2022 Proof Dollar celebrates Bell's lifelong commitment to science, innovation and ingenuity.
More than just the telephone, Bell's many inventions and varied pursuits made him a significant contributor to our modernworld. Those contributions, along with key words from his life story, are listed in the word-art portrait featured on the 2022 Proof Dollar, which harnesses the power of language to present a more complete picture of this Great Inventor.
A word-art portrait of innovation! Celebrate the life and legacy of Alexander Graham Bell with the 2022 Proof Dollar!
A Canadian celebration of innovation. The year 2022 marks the 175th anniversary of the birth of Alexander Graham Bell (1847-1922), the great inventor whose interests and inventions had a profound impact on our modern world—and many of those advancements were made in Canada.
Our flagship collector coin. The Alexander Graham Bell: Great Inventor commemorative collection highlights Bell's achievements across several coins in 2022, beginning with this year's Fine Silver Proof Dollar.
Limited mintage. Limited to 50,000 worldwide.
Includes serialized certificate. The Royal Canadian Mint certifies all of its collector coins.
No GST/HST
Packaging
Your coin is encapsulated and presented in a Royal Canadian Mint-branded clamshell with a black beauty box.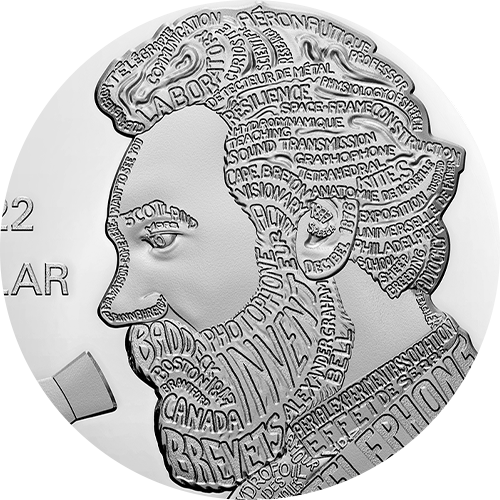 A word-art portrait
Precisely etched in 99.99% pure silver, the Proof Dollar's word-art portrait takes visual storytelling to a whole new level by incorporating key words that form a more complete (and compelling) story. It's also a fitting tribute to a person who spent much of his life studying communication.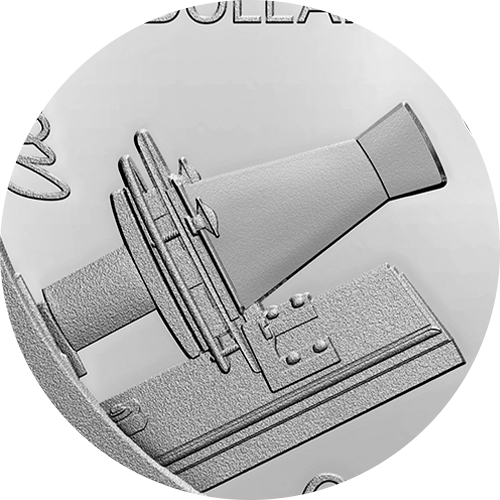 An 1876 telephone
The telephone is the invention that made Bell world famous, and the one that paved the way for his other contributions to science and technology. Your Proof Dollar's reverse includes a depiction of his experimental model from 1876.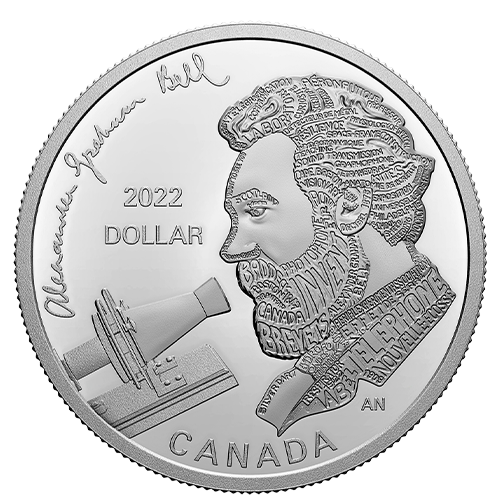 Includes his signature
Like the 2021 Proof Dollar, this 2022 tribute to a visionary includes a personal touch: an engraved reproduction of Bell's signature.
Composition
99.99% pure silver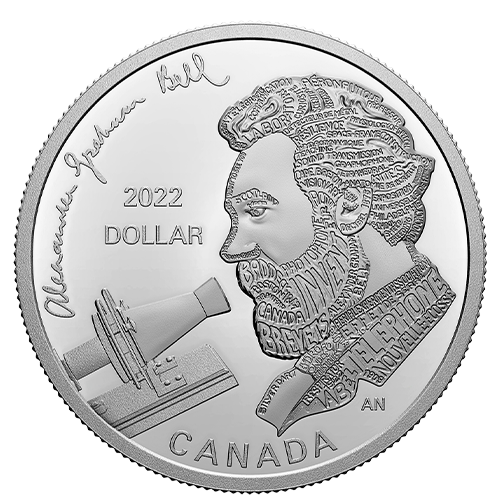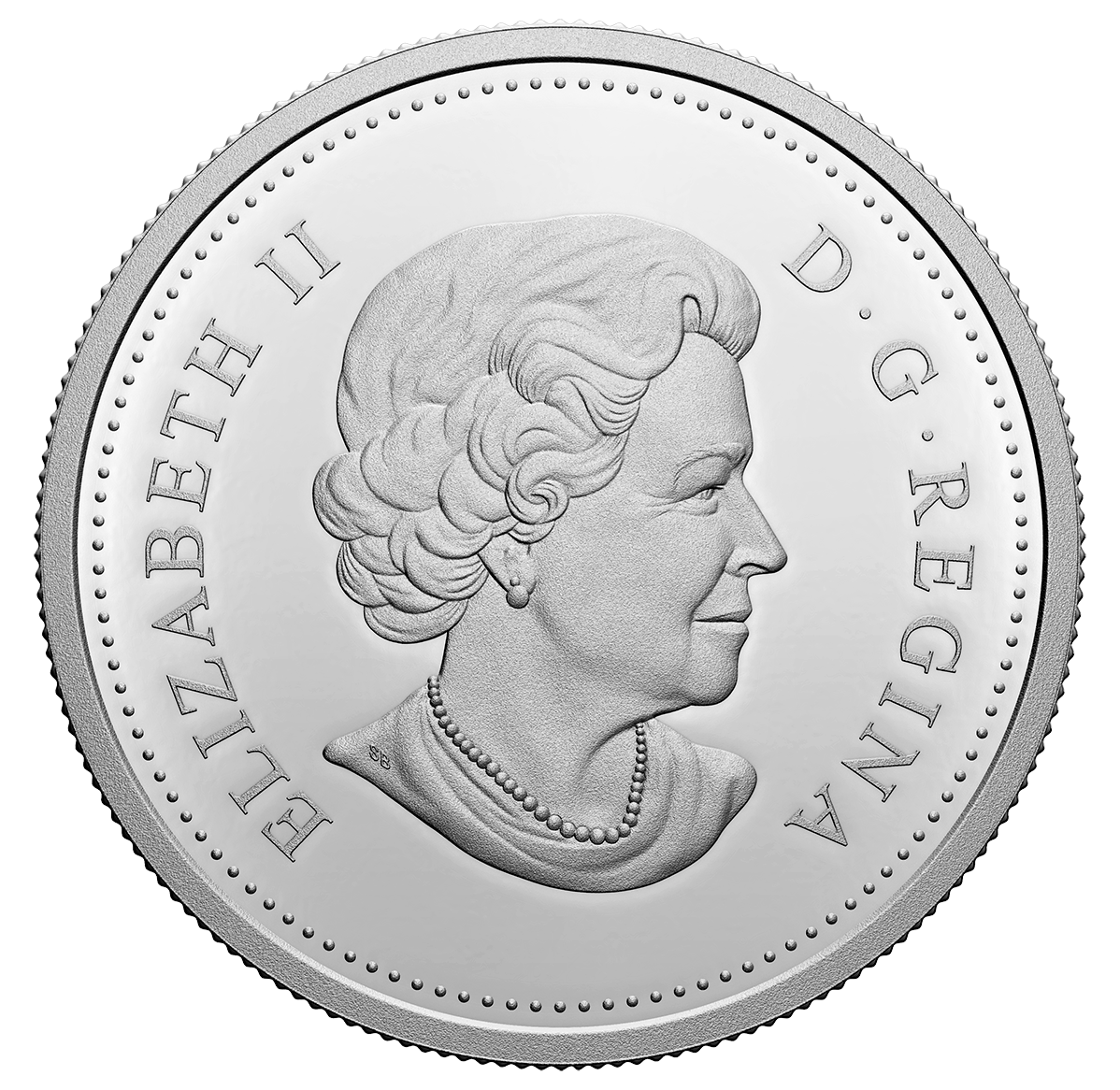 Your 2022 Fine Silver Proof Dollar features a reverse design by Canadian artist and RCM translation and official languages specialist, Armand Nina. Its word-art portrait of inventor Alexander Graham Bell (1847-1922) is composed of various words that represent different aspects of his life, accomplishments and legacy. An experimental model of Bell's most famous contribution to science and technology, the telephone, appears to the left of the inventor, while Bell's signature appears near the rim. The reverse includes the word "CANADA", the face value, "DOLLAR" and the year "2022". The obverse features the effigy of Her Majesty Queen Elizabeth II by Susanna Blunt.
Personality rights of ALEXANDER GRAHAM BELL are used with the permission of Alexander and Mabel Bell Legacy Foundation.
What do you want to know about this product?
Your product was successfully added to your collection.
The product could not be added